(Updated on January 9th, 2023)
McAfee or Avast? Which software is better and why?
Read this ultimate McAfee vs. Avast comparison to find out which software works best for your needs.
McAfee and Avast are long-timers in the antivirus realm. They offer excellent protection and privacy against online threats and security. If the two engage in a contest, which one will emerge the best?
In this comparison, we will review both antivirus security suites. We will evaluate them side by side using the following aspects: Features, Malware Protection, System Performance, User Interface, Pricing, and Compatibility. Read on to find out which antivirus suite you should pick.
Every day in the digital world, cybercriminals launch new malware and advanced threats. According to Help Net Security, in the second quarter of 2020, cyberspace had an average of 419 new threats per minute. New malware was also on the rise. This trend is expected to continue in 2023.
To ensure you are safe from this new malware and online threats, you need to secure all your devices. The best approach is to use a paid antivirus security suite. Unlike free antivirus products, premium suites are fully-fledged, and they provide excellent value for money with peace of mind.
These paid antivirus security suites offer advanced protection and privacy. They are also loaded with security and privacy-enhancing features such as VPN, password manager, webcam protector, file encryption, file shredder, system optimization tools, cloud backup, parental control, and identity theft features.
Besides a slew of features, premium antivirus security suites are cross-platform; they are compatible with Windows, Mac, Android, and iOS. Also, a single subscription can cover multiple devices. Without further ado, let us start the comparison between McAfee and Avast.
Comparison at a Glance
McAfee and Avast have fully-featured antivirus security suites with excellent malware protection capabilities. They are cross-platform and work well with Windows, Android and have fewer features for Macs and iOS. Their pricing is competitive, and a single subscription can cover up to a maximum of 10 devices. Here is a brief comparison of both antivirus brands.
1. Features
Winner: McAfee. Products from McAfee and Avast offer an impressive list of features. Their features provide security and privacy enhancement. McAfee adds protection against identity theft and parental control.
2. Malware protection
Winner: Tie. Avast and McAfee got perfect scores in the latest independent lab tests by AV-Test and AV-Comparatives. Each brand offers comprehensive security against malware and other online threats.
3. System performance
Winner: McAfee. McAfee doesn't take a toll on your system resources when doing scans. It also got all points in the latest independent lab results.
4. User interface
Winner: Tie. McAfee and Avast sport a user-friendly and intuitive interface. They both have well-organized dashboards with easy accessibility to features and functionalities.
5. Pricing
Winner: McAfee. Avast and McAfee offer different pricing plans for their products. Avast has three pricing plans, while McAfee has a streamlined subscription for its single product. Moreover, McAfee has an identity protection feature, and this adds up the value of your money.
6. Compatibility
Winner: Tie. McAfee and Avast have cross-platform products for Windows, Macs, Android, and iOS devices. However, functionality is limited in Macs and iOS devices.
Short Verdict
McAfee gives you a comprehensive security suite with advanced protection, parental control, and identity theft protection. On the other hand, Avast offers a complete antivirus security suite with great features but no identity protection.
Overall, both brands do an excellent job of detecting and preventing malware, viruses, exploits, and other online threats. Products from these brands are cross-platform, and their subscriptions cover up to a maximum of 10 devices. In terms of comparison, McAfee outperforms Avast products.
Additionally, Avast's privacy scandal in which it collected and sold millions of user data to other companies. This makes its credibility on privacy shaky.
1. Features
McAfee and Avast are well known in the antivirus industry. Boasting a user base of over 400 million users, these brands are entrusted with doing a perfect job against online threats. Being the industry for long, both brands have undergone modest renovations. This is to ensure they bring you the best protection alongside useful features. Here are the offerings from both brands.
McAfee brings you more than just an antivirus. For home use, McAfee offers a single premium product, McAfee Total Protection. Unlike other antivirus brands with segmented products, McAfee bundled its products into one security suite. McAfee offers this comprehensive suite in three tiers – the same product differentiated by pricing. The tiers include; Single device, Individual/Couples, and Family.
Here are features of the lowest tier, Single Device
Award-winning antivirus engine – protection against viruses, malware, ransomware, spyware, and other online threats.
Safe web browsing.
Home network security.
Encrypted storage and McAfee shredder.
Password manager.
Performance optimizations.
1 license of secure VPN.
Online support from security experts.
The next tier is Individual/Couples. This tier supports up to 5 devices and comes with the following additional features
5 licenses of secure VPN.
Multi-device compatibility.
Identity theft protection essentials.
The family tier only has two distinct features. It supports up to 10 devices and comes with parental control via the Safe Family functionality.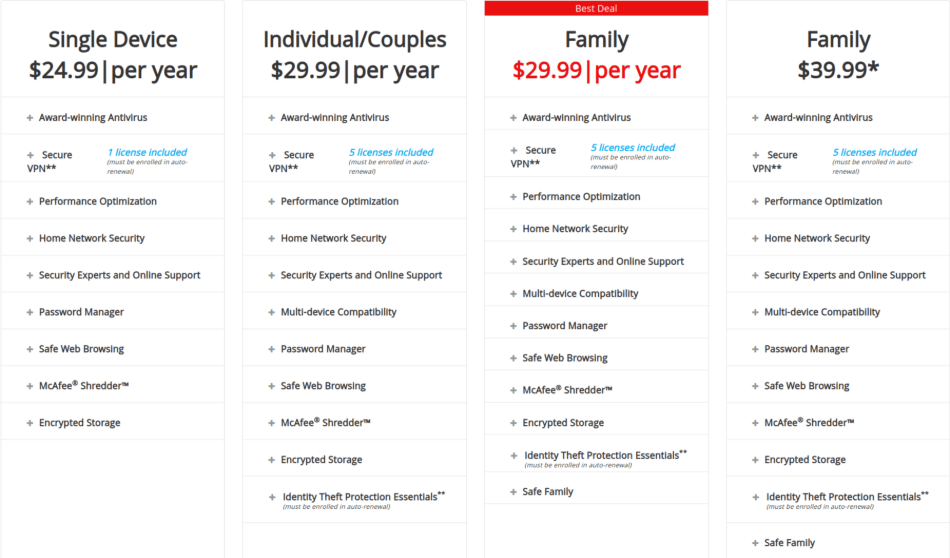 Avast follows the other antivirus brands in its offerings. It has two different paid products differentiated by a few essential features. The features ensure you get the most advanced protection and security. Similar to McAfee, Avast products offer multi-device support, up to a maximum of 10. Here are the features of the lower end product: Avast Premium Security
Real-time protection against viruses, ransomware, and other online threats.
Ransomware shield for extra protection against ransomware.
Sandbox environment.
Safe shopping.
WIFI inspector.
Webcam shield.
Firewall and antispam.
Data shredder.
Automatic update.
The next product is Avast Ultimate. This is Avast's comprehensive security suite. Avast Ultimate brings you more privacy and performance optimizations besides the antivirus capabilities and features from the other product. These are presented in two features
VPN – Avast Secure Line.
Avast Clean up – ultimate cleanup and tune-up tool.
Both Avast and McAfee offer excellent features geared towards privacy and online security. Each brand has some unique features that are not provided by the other. However, McAfee has one outstanding feature that gives it a cutting-edge: identity theft protection essentials.
This feature monitors the dark web and keeps tabs on your identity. Essentially, it crawls the dark web and the internet to check if your personal information has leaked. If it has, McAfee has remediation agents on the clock ready to help you with the situation.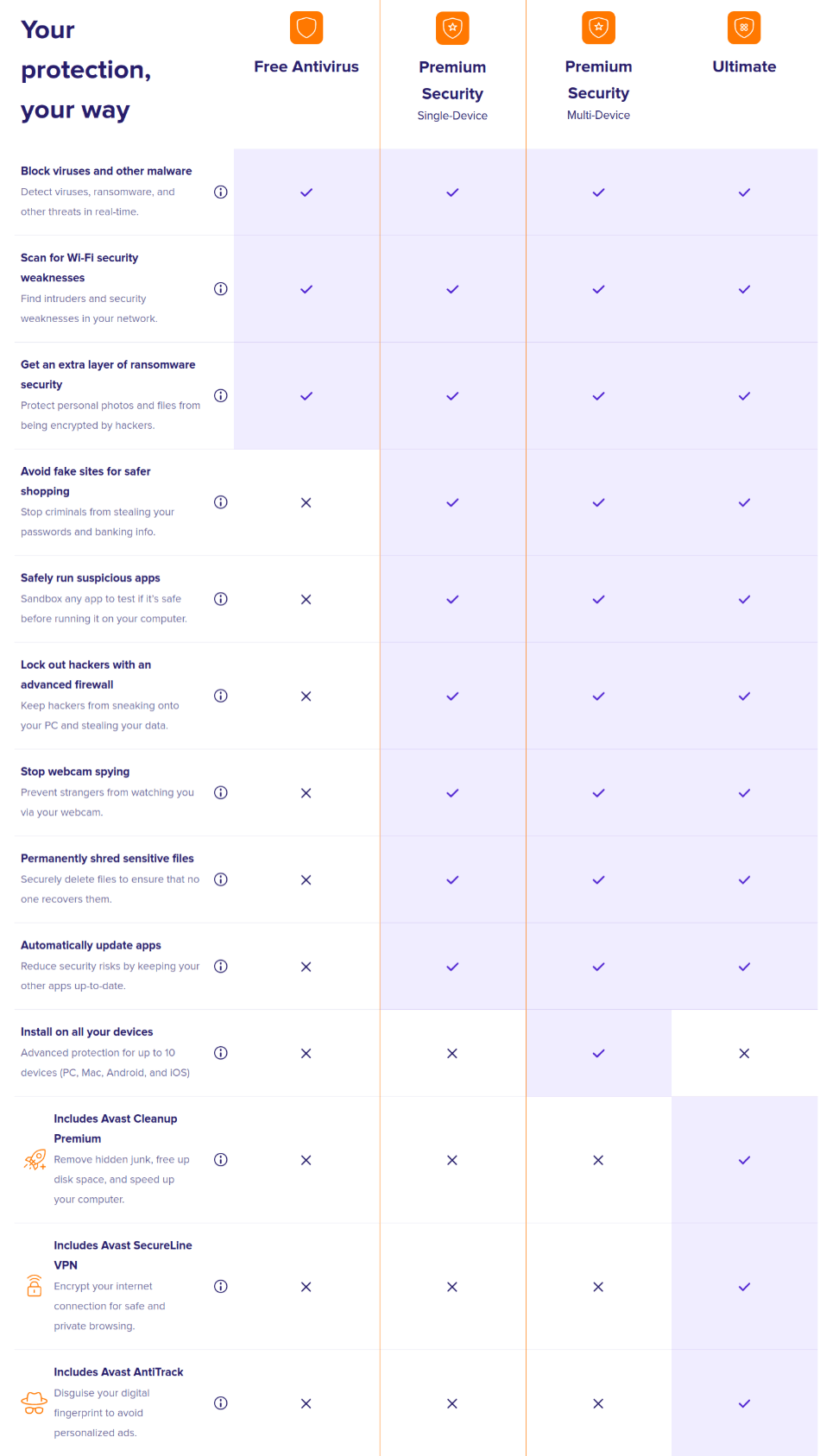 Winner: McAfee.
2. Malware Protection
Avast and McAfee antivirus security suites offer more than just baseline protection. They bring you a complete security solution with online privacy protection and other security-enhancing tools. They can combat various digital online threats, including zero-day exploits.
Regarding malware protection, we will rely on tests conducted by AV-Test and AV-Comparatives independent labs. These labs test and evaluate antivirus security suites to see how they fare in the real world scenario.
AV-Test uses various samples that test for protection against zero-day attacks, infection vectors, and detection of widespread and prevalent malware. AV-Comparatives uses two tests; real-world protection and malware protection tests. It also uses samples to test against malicious URLs, malicious websites/malware, and drive-by exploits in real-world protection.
Before we dive into the test results, let us look at how these brands offer malware protection.
McAfee uses multi-layered protection combined with machine learning to ensure it offers complete protection. With machine learning, false positives are significantly reduced, and McAfee can detect malware faster.
Additionally, McAfee also offers protection against 'fileless' threats. That is, it will scan your system files for malware. Most antivirus brands assume legitimate system files are safe.
Here are the latest malware protection results for McAfee from AV-Test.
Next is McAfee's AV-Comparative malware protection results.
Similar to McAfee, Avast also brings you the best protection. It uses its award-winning antivirus engine across its products. Its advanced artificial intelligence powers its real-time threat detection; this AI feeds real-time intelligence from Avast's user base of over 435 million users.
Avast boasts prevention of more than 66 million threats every day via this real-time intelligence.
Here are the latest malware protection results for Avast from AV-Test.
Lastly, Avast's AV-Comparative malware protection results.

From the independent labs, both brands showcase excellent protection against malware and other online threats. In AV-Test, McAfee and Avast scooped all the 6 points. AV-Comparatives also awarded them the three-start advanced plus rating.
Winner: Tie.
3. System Performance
If an antivirus suite impacts your system performance, you might consider not use it when you are busy. Hence, you might miss out on the required protection. In this section, we will also rely on tests from independent labs (AV-Test and AV-Comparative) to measure McAfee and Avast product's system performance impact.
The independent labs test for impact on daily computer activities. These activities include; web browsing, file operations such as copying, archiving and downloads, installing apps, and even launching programs.
Here are McAfee's system performance results from AV-Test.
Next, McAfee's AV-Comparatives performance results.
Here are Avast's system performance scores from AV-Test.
On to AV-Comparatives, here is how Avast fared.
From AV-Test results, Avast gets a score of 5.5 while McAfee gets all the 6 points. AV-Comparative awards both brands a three-star advanced plus rating. Overall, this means McAfee doesn't impact your system resources as much as Avast does.
For better performance when using either Avast or McAfee products, always ensure your system is optimized. You can do this using the performance optimization utilities offered by both security suites.
Winner: McAfee.
4. User Interface
Products from both brands sport a decluttered, user-friendly interface.
McAfee gave its products a modest intuitive user interface via the recent updates. McAfee Total Protection got a redesigned and rather more appealing user interface. The new design uses less space and does away with the previous five categories on the dashboard.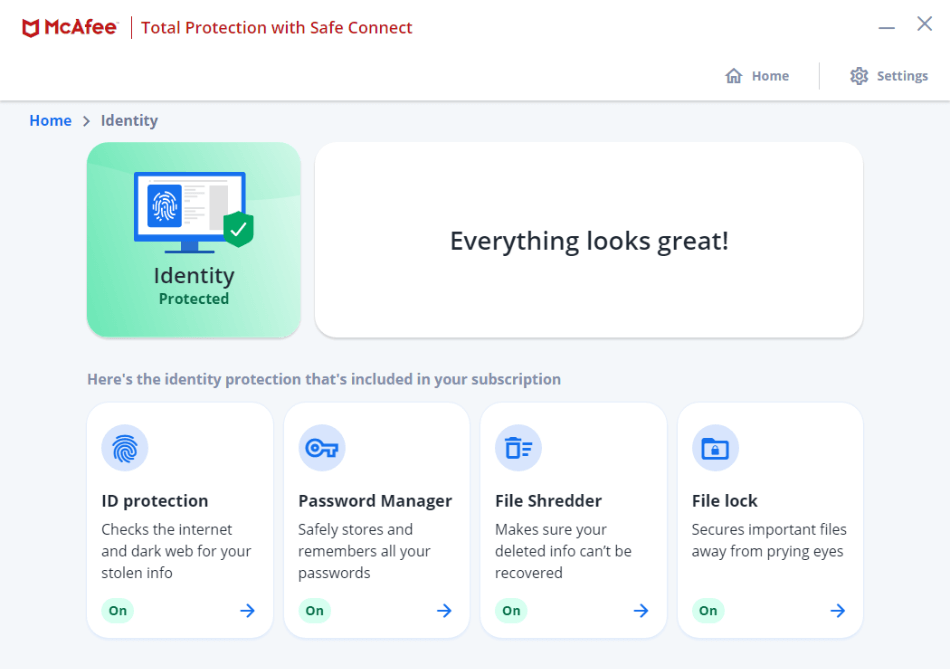 Currently, the main dashboard packs a large status banner at the top and three categories at the bottom. The main dashboard also displays various reports and alerts.
Like McAfee, Avast products also sport an intuitive interface. Avast still uses the blue and grey shade with the menu items colored in purple. The right panel still packs the four tabs on the main dashboard.
In both brands, features and functionalities are neatly organized, easily accessible, and navigation is easy. Additionally, you can customize most settings to your preference.
Winner: Tie.
5. Pricing
Both brands have various plans that will suit your needs. Their subscription support varies from that of a single device to a multi-device.
McAfee offers three different subscription plans for its McAfee Total Protection three tiers. These subscriptions carry a 30-day money-back guarantee. Additionally, McAfee offers 100% virus removal guarantee or your money back. Here are the introductory pricing details at the time of this review;
The Single device subscription retails at $24.99 per year per device.
The Individual/Couple subscription goes for $29.99 per year for 5 devices.
The Family subscription costs $39.99 per year for 10 devices.
Here are more pricing details;
| McAfee Products | Regular Price | Discounted Price |
| --- | --- | --- |
| McAfee Total Protection (1 Device) | $79.99/year | Check here |
| McAfee Total Protection (5 Device) | $99.99/year | Check here |
| McAfee Total Protection (10 Device) | $119.99/year | Check here |
Avast also offers three subscription plans on its two premium products. Avast also allows you to try some of its products for 30-days before committing to any payment plan. Here are the subscription plans at the time of this review;
Avast Premium Security for 1PC costs $39.99 per year.
Avast Premium Security for 10 devices retails at $59.99 per year.
Avast Ultimate for 10 devices costs $69.99 per year.
| Avast Products | Regular Price | Discounted Price |
| --- | --- | --- |
| Avast Internet Security | $47.99/year | Check here |
| Avast Premium Security (1 Device) | $69.99/year | Check here |
| Avast Premium Security (Multi-Device) | $89.99/year | Check here |
| Avast Ultimate | $99.99/year | Check here |
| Avast Business Antivirus | Varies | Check here |
In comparison, both antivirus brands offer affordable pricing plans on their products. However, from the introductory pieces, McAfee offers a sweet deal even on its comprehensive security suite. Although McAfee will be a bit pricey after the renewal, its features such as parental control and identity protection will be worth your money.
On pricing, it will depend on your budget and your level of protection.
Winner: McAfee.
6. Compatibility
Both Avast products and McAfee Total Protection are cross-platform. They are compatible with Windows, Macs, Android, and iOS devices. Also, with a single subscription, you can cover up to a maximum of 10 devices.
Regarding protection and features, the Windows and Android platforms have more features than their counterparts. This is because the Mac and iOS operating systems are much more limited. Nonetheless, both products offer more than antivirus protection on both platforms. The mobile versions also get platform-specific features for security, privacy, and performance.
Winner: Tie.
Final Thoughts
Avast and McAfee are among the best antivirus brands in the market. Antivirus security suites from both sides offer complete impeccable protection against malware, viruses, ransomware, and other online threats. With the help of machine learning and artificial intelligence, McAfee and Avast can detect and prevent zero-day exploits and other ever-evolving threats.
McAfee takes your privacy a notch higher by its parental control and identity protection essential. Unlike Avast, which doesn't have these features, McAfee can check on the internet and the dark web for leaked sensitive information. Also, McAfee has agents around the clock to help you deal with such situations.
Despite doing a great job in security and privacy, Avast was involved in a privacy scandal. In early 2020, it was alleged that Avast was selling collected user data to advertisement companies and other third parties.
Avast collected this data through its browser extensions. Jump shot, an Avast subsidiary, was behind this scandal. Avast remedied the situation afterward and stated that user privacy matters the most.
In general, both Avast and McAfee are well suited to safeguard your online privacy and protect you against threats.
Frequently asked questions
Can I use McAfee and Avast together?
Using more than one antivirus is not recommendable. You can only install the best and do away with the other one. Having more than one antivirus suite will likely bring system conflicts. This will lead to system performance issues and even more false positives.
Is Avast antivirus any good?
Avast is one of the best Antivirus brands and has been in the industry for a long period. Despite the latest privacy scandal, Avast offers excellent protection against online threats and even safeguards your privacy.
Is McAfee a good antivirus program?
McAfee Total Protection is an excellent antivirus and a comprehensive security suite. In recent independent lab tests, McAfee aced all the tests and was well rated. McAfee Total Protection has excellent features for both security and privacy, and it is also cross-platform. Additionally, a single subscription can support up to a maximum of 10 devices.
Should I pay for Avast?
Definitely yes. Avast free antivirus just offers the baseline antivirus protection. Avast offers comprehensive protection through its premium antivirus security suites. The prices are affordable, and you get bonus features. However, for the best protection, consider McAfee Total Protection.
Is Avast Safe 2023?
The 2020 privacy scandal in which Avast sold millions of user data to advertising companies is scary. However, Avast isn't doing that anymore, and its products are still offering excellent protection.