(Updated on January 9th, 2023)
Bitdefender or Malwarebytes? Which software is right for you?
Read this ultimate Bitdefender vs. Malwarebytes comparison to find out which one is the best software for your needs.
In this ultimate comparison, we will pit Bitdefender and Malwarebytes against each other. To determine the best antivirus security suite, we will evaluate them using the following aspects; features, malware protection, system performance, user interface, pricing, and compatibility. We will also rely on the latest results from independent labs such as AV-Test.
Cyberthreats are getting more sophisticated each day. According to Forbes, Cybersecurity threats are still a significant concern in the online realms. To combat the growing threats, you need antivirus security suites to handle protection and security the right way.
To get the best protection against these prevalent online threats, you need a paid security suite. A premium security suite offers comprehensive protection as compared to free products. Premium security suites also provide a slew of privacy, performance, and security-enhancing features.
For instance, besides malware protection, most paid antivirus security suites pack the following features; anti-phishing, password manager, parental control, cloud backup, VPN, anti-tracker, system optimization tools, File shredder, vulnerability protection, Safe online banking, and protection against zero-day exploits and ransomware attacks.
Additionally, a paid antivirus security suite gives excellent value for your money and peace of mind. Unlike free antivirus software, you will do away with ads, annoying pop-ups, and get access to expert help when the need arises. Without further ado, let's dive into our ultimate comparison between Bitdefender and Malwarebytes.
Comparison at a Glance
Bitdefender and Malwarebytes bring you cross-platform products that offer exceptional protection against online threats. They have competitive prices, and each subscription covers multiple devices. Here is a quick comparison overview of Bitdefender vs. Malwarebytes.
1. Features
Winner: Bitdefender. Bitdefender products pack an impressive list of features. The features are geared towards your online protection, privacy, and on-device performance. The same cannot be said for Malwarebytes products as they do not offer extra features. All you get is robust protection against online threats.
2. Malware protection
Winner: Tie. Bitdefender and Malwarebytes products offer complete malware protection against online threats. Their real-time detection engines ensure no threats get to your system undetected. Additionally, Bitdefender and Malwarebytes got all the points for malware protection evaluations from the independent lab AV-Test.
3. System performance
Winner: Tie. Similar to malware protection, both Bitdefender and Malwarebytes got all the points from AV-Test's system performance evaluations. Bitdefender and Malwarebytes products provide all the protection you need without compromising your system performance. At times, you won't even notice any performance impact when using these products.
4. User interface
Winner: Tie. Bitdefender and Malwarebytes products pack a user-friendly intuitive interface. With modest changes from both sides, their products now feature a decluttered interface. Most functionalities and features are well organized and are easily accessible from the main dashboard.
5. Pricing
Winner: Bitdefender. Products from Bitdefender and Malwarebytes offer competitive prices and subscription plans that cover multiple devices. However, Bitdefender products give you value for your money through their great list of features.
6. Compatibility
Winner: Tie. Bitdefender and Malwarebytes offer cross-platform products compatible with Windows, Macs, Android, and iOS devices. However, such as many antivirus security suites, their functionality is limited in Macs and iOS devices. Malwarebytes is also compatible with other antivirus products.
Short Verdict
Bitdefender and Malwarebytes offer excellent protection and advanced real-time detection of various online threats. Each product is equipped with a unique antivirus engine coupled with other threat detection technologies. Bitdefender and Malwarebytes products are cross-platform: they are compatible with Windows, Macs, Android, and iOS.
Moreover, a single subscription from both products covers multiple devices up to a maximum of 5 for Malwarebytes and up to 15 for Bitdefender. Products from Bitdefender and Malwarebytes offer superb usability, and they don't take a toll on your system's performance.
However, Malwarebytes is a bit lacking in terms of features. It only gives the bare malware protection. On the other hand, Bitdefender is loaded up with features essential for your security, performance, and online privacy. These extra features offer you great value for your money.
1. Features
To complement malware protection capabilities, Antivirus suites offer a slew of features. These features may be tailored to provide advanced security, safeguard your online privacy, or improve your system performance. Additionally, great features offer great value for your money. Let us have a look at the various features offered by each contender.
Bitdefender offers an unrivaled array of features in its five premium antivirus products. Each product is loaded with unique features, especially for protection, performance, and privacy. These tons of features, coupled with complete malware protection, makes Bitdefender a comprehensive antivirus suite.
Among the five products for home users, three are cross-platform, while the other two are only compatible with Windows. The Windows Bitdefender products are considered base packages. We will start by looking at the features of Bitdefender Antivirus Plus for Windows.
Protection: Real-time data and Multi-layer ransomware protection, Advanced threat defense, Network threat prevention, Vulnerability assessment, Web attack prevention, anti-phishing, anti-fraud, and Rescue environment.
Performance: Autopilot, Battery mode, Bitdefender photon, Global protective network, Performance profiles.
Privacy: Anti-tracker, 200MB VPN, File shredder, Safe online banking, Password manager, and Social network protection.
The other Windows product is Bitdefender Internet Security. This product offers the following additional features;
Antispam.
Microphone monitor.
Parental Control.
Privacy firewall.
Webcam protection.
WIFI security advisor.
The other three products only add a few features to the existing feature list and support more than 5 devices.
Let us start with Bitdefender Total Security. This is one of our Bitdefender recommendations. Its additional features include;
Support of up to a maximum of 10 devices.
Antitheft functionality.
Performance optimization utility.
Our next recommendation is Bitdefender Family Pack.
This product ups the number of supported devices to 15.
It also sports the same features as Bitdefender Total Security.
Bitdefender's final product is the Bitdefender Premium Security.
This product also supports a maximum of 10 on a single subscription
It also offers unlimited VPN traffic.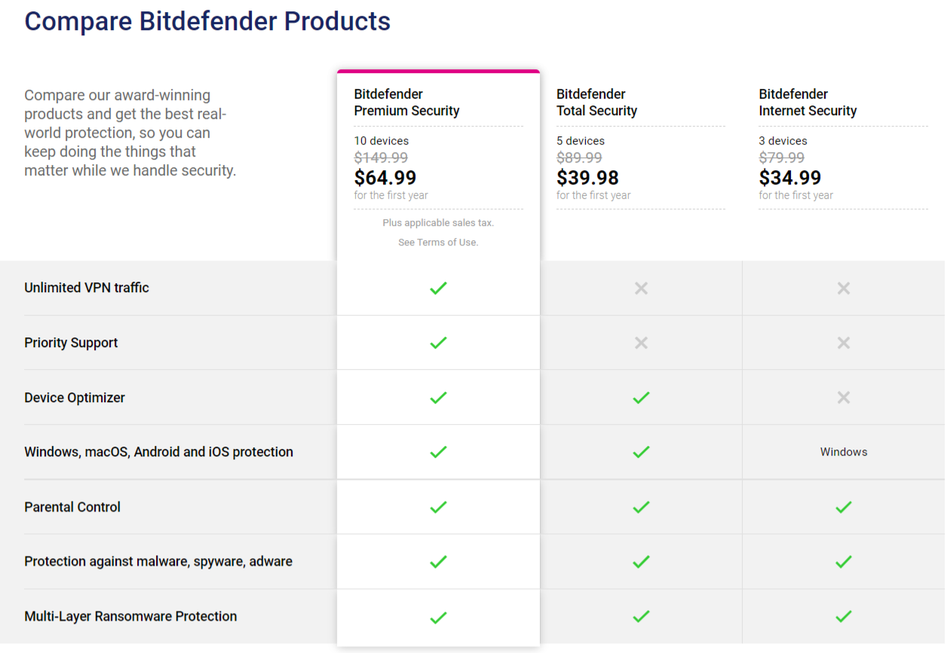 Malwarebytes has two premium products; Malwarebytes Premium and Malwarebytes Premium plus Privacy. Both products are cross-platform, and they cover up to a maximum of 5 devices. Unlike Bitdefender, Malwarebytes isn't loaded with tons of features. True to its original purposes, Malwarebytes offer robust protection and nothing else.
The notable features offered by Malwarebytes Premium include protection against online threats and the antivirus engine. Protection is further divided into four categories.
Web, malware, ransomware, and exploit protection.
Malwarebytes Premium plus Privacy only adds a VPN functionality.
Regarding features, Malwarebytes is short of them, while Bitdefender packs a lot of them. With Bitdefender, you get almost every security, privacy, and performance enhancements. Moreover, Bitdefender gives you parental control functionality, which is a great addition for family households.
On the other hand, Malwarebytes only gives you threat protection and privacy via a VPN. You can get these features from Bitdefender's lowest package.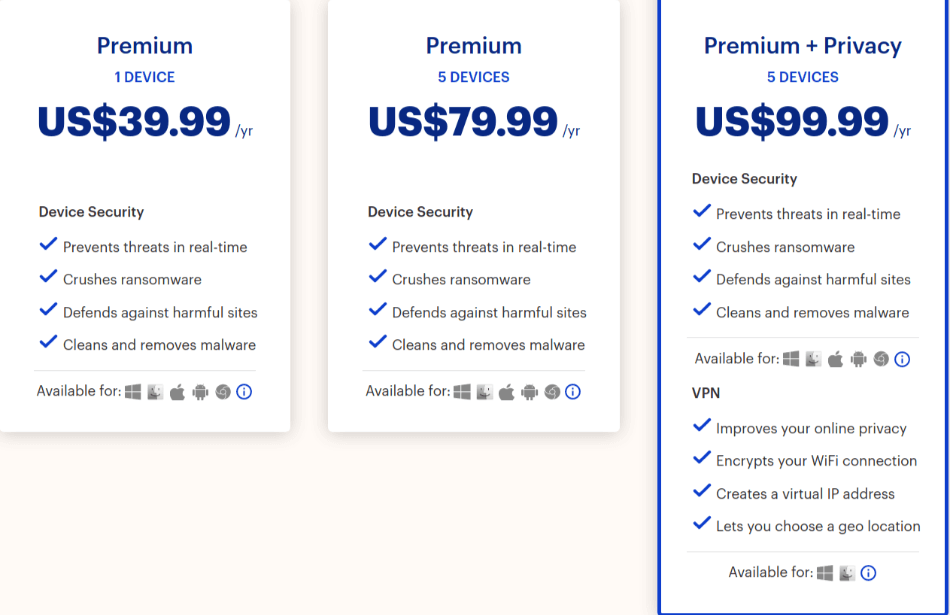 Winner: Bitdefender
2. Malware Protection
Bitdefender and Malwarebytes offer impeccable protection and complete online security against viruses, malware, exploits, and other online threats.
Bitdefender products are armed with the same antivirus engine and malware detection technology. The products also use Bitdefender's cyber threat intelligence to analyze and identify exploits and potential network threats. This tech ensures you're safe from brute force attacks and even botnets.
Malwarebytes uses enhanced behavior-based analysis to have a cutting edge for malware protection. This tech, combined with multiple protection layers, offers superior detection abilities. Malwarebytes can also generate its threat signature to combat zero-day attacks. Unlike traditional antivirus engines, Malwarebytes ensures no evolving threats get past it.
In the recent tests done by the independent lab AV-Test, both brands show-cased excellent malware protection capabilities. AV-Test evaluations use various samples to test for protection against malware infections, zero-day malware attacks, and the detection of widespread and prevalent malware.
Here are the results for Bitdefender.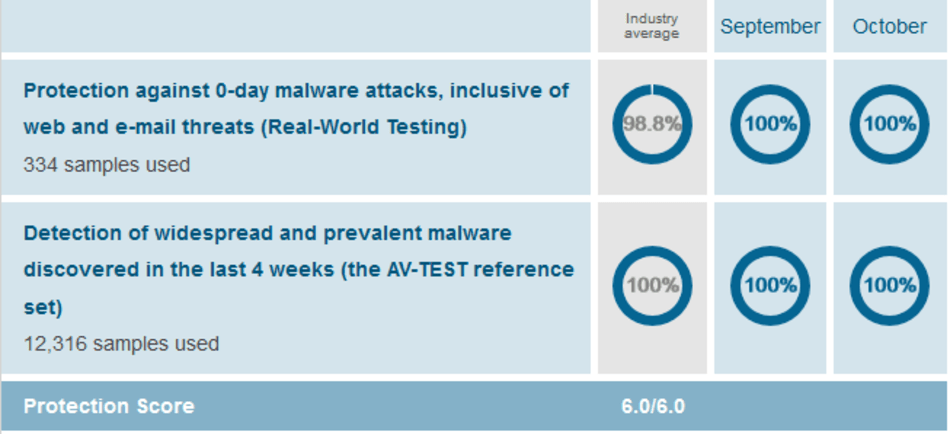 Here are the results for Malwarebytes.
Bitdefender and Malwarebytes got all the 6 scores for malware protection. Even though being light on security features, Malwarebytes' malware protection doesn't miss a threat. With its behavior signature technology, Malwarebytes can detect even evolving threats at a faster rate.
You should know Malwarebytes started participating in independent labs evaluations recently. Hence, not many labs include it in their tests.
Winner: Tie
3. System Performance
Bitdefender and Malwarebytes are light on resources and won't get in your way during scans. Bitdefender uses its Photon technology to adapt to your system's hardware and software configurations. This technology enables it to save resources, which can, in turn, improve its performance and speed.
Additionally, Bitdefender uses cloud technology to perform some scans. Hence, it doesn't use your system resources. You can also adjust your system with various profiles to get the best performance while Bitdefender is running. You can set Bitdefender to adjust your visuals and even temporarily pause unessential background processes and activities.
Malwarebytes is a lightweight security suite with only malware protection to offer. Hence, it doesn't hog your system resources, and you won't notice any CPU fever during malware scans. Its antivirus engine is tailored to have a minimal impact on your system resources. You won't notice until there's threat prevention in action.
If Malwarebytes encounters serious threats that need to be dealt with, you will have to reboot your system for necessary action. This might get in your way if you have a busy schedule. Otherwise, it doesn't impact your performance as system restarts are recommended.
We will again rely on results from AV-Test for system performance evaluations. AV-Test evaluations measure the toll an antivirus product has on daily computer activities. Evaluations carried out involve activities such as file operations, installation of programs, launching apps, downloads, and browsing.
Here are the AV-Test results for Bitdefender products.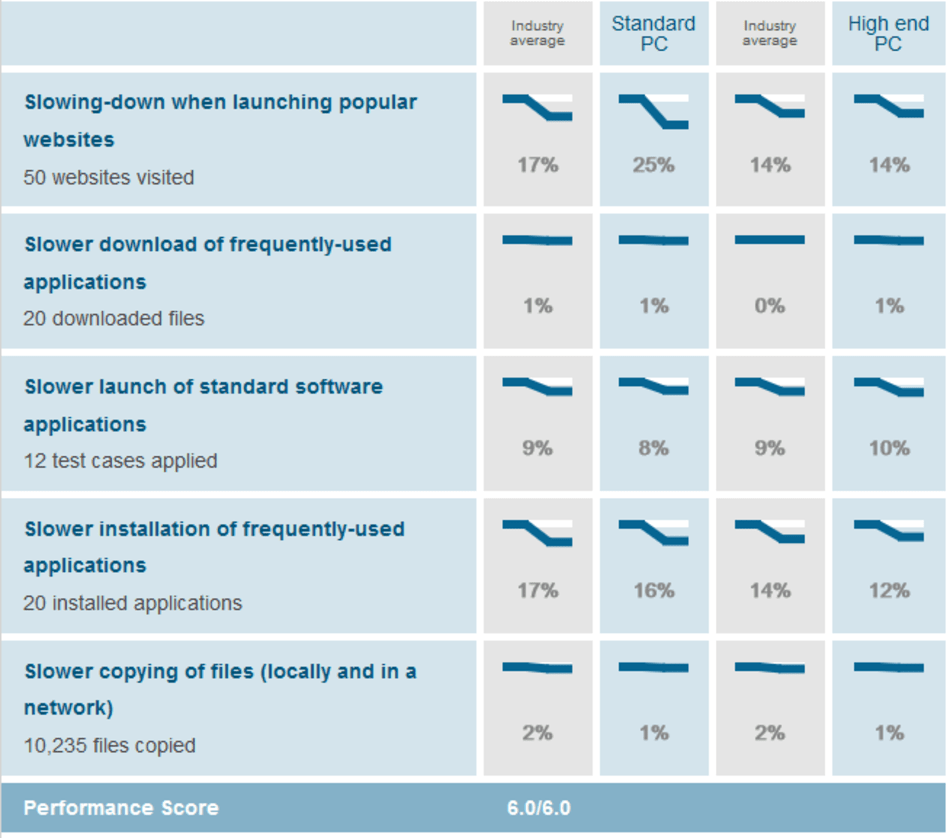 Here are AV-Test results for Malwarebytes.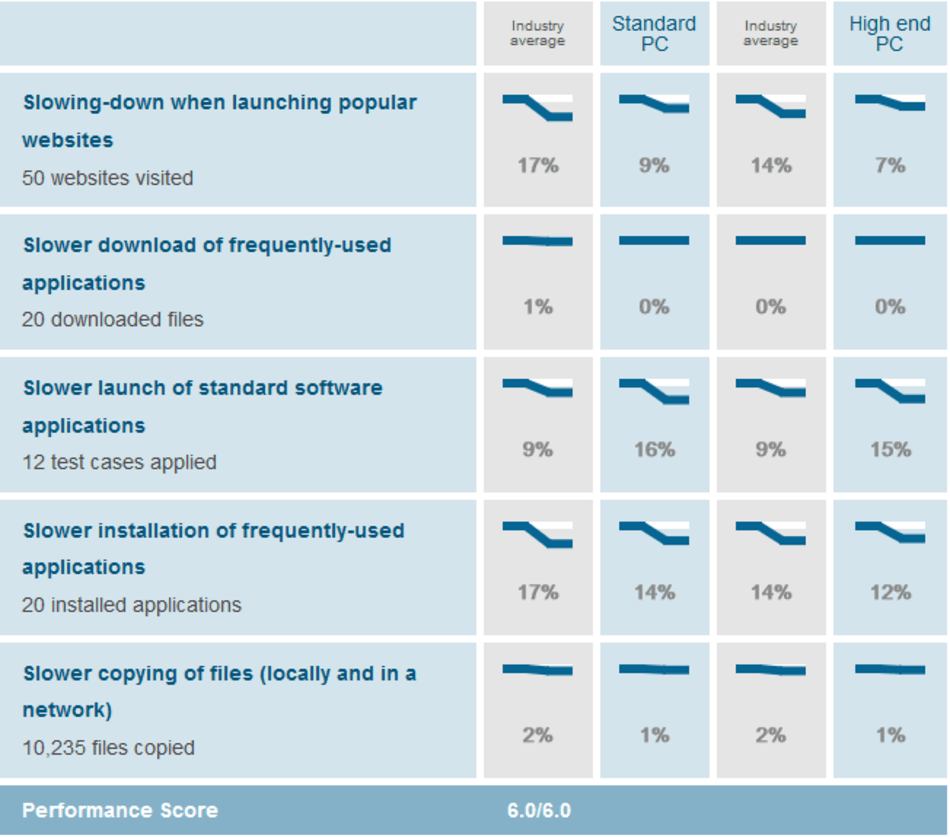 Both brands bagged all the 6 points for system performance.
Winner: Tie
4. User Interface
Bitdefender and Malwarebytes sport user-friendly interfaces that enhance the usability of the products. An appealing interface gives room for better interaction with features and functionalities.
Bitdefender did a user interface facelift, which brought modest changes to its products. The new dashboard now hosts essential features, and navigation is easy. Bitdefender did avoid complexities with the neat organization and accessibility of features.
Malwarebytes products also underwent a user interface overhaul with the new version 4 update. The new user interface is minimalistic and decluttered. Since Malwarebytes has no features, all the essential functionalities can be managed through the main dashboard. If you want to tweak settings, you can do that via the settings icon, which brings up a more detailed pane.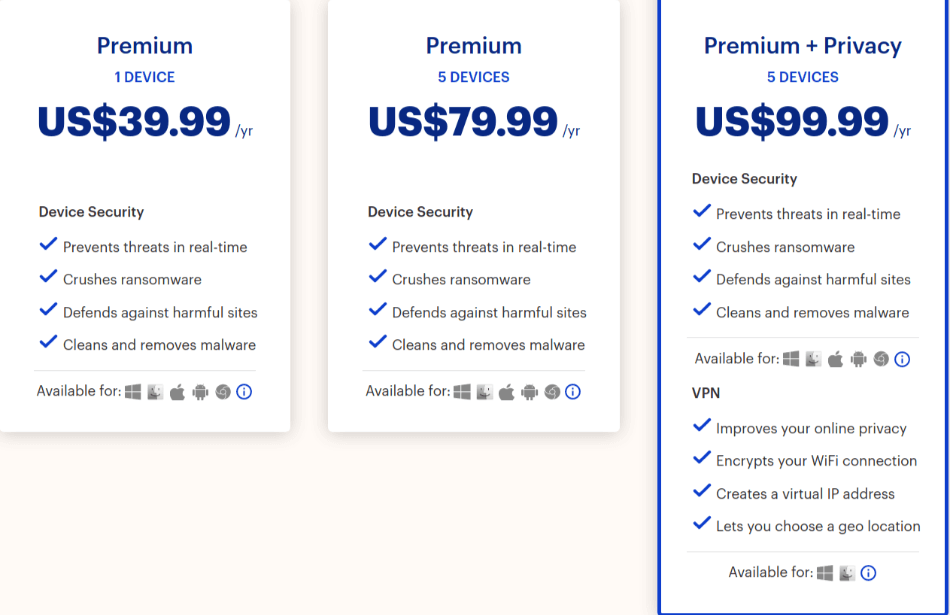 Overall, both products pack an intuitive user interface, which enhances the products' ease of use.
Winner: Tie
5. Pricing
Both brands offer a selection of subscription plans suitable for everyone. As mentioned earlier, the subscriptions can cover multiple devices. Here are the current prices at the time of this review for both brands.
Bitdefender offers five subscription plans for its five products. The subscription period ranges from one year to three years. Bitdefender also gives a 30-day money-back guarantee. You can use this period to test the products before going for a long-term commitment.
Here are details on Bitdefender's introductory prices for the first year;
Bitdefender Antivirus Plus subscription retails at $29.99 for 3 devices.
Bitdefender Internet Security subscription goes for $34.99 for 3 devices.
Bitdefender Total Security subscription costs $39.98 for 5 devices.
Bitdefender Family Pack subscription goes for $49.99 up to15 devices.
Bitdefender Premium Security subscription costs $64.99 for devices.
Malwarebytes offers three subscription plans for its two premium products. The subscriptions carry a 60-day money-back guarantee, twice that of Bitdefender. Here are the pricing details;
Malwarebytes Premium subscription for 1 device costs $39.99 per year.
Malwarebytes Premium subscription for 5 device goes for $79.99 per year.
Malwarebytes Premium plus privacy subscription for 5 devices retails at $99.99 per year.
In comparison, Bitdefender offers you a better value for money, given that it has many security and privacy features.
Winner: Bitdefender
6. Compatibility
Bitdefender and Malwarebytes are cross-platform, and they cover multiple devices. Their products are compatible with Windows, Macs, Android, and iOS. Similar to other antivirus security suites, Bitdefender suffers from limited feature functionality in Macs and iOS. Malwarebytes is not affected that much since it has no bonus features.
You get the bare protection on these platforms. Additionally, you can configure Malwarebytes to work alongside other antivirus suites.
Winner: Tie
Final Thoughts
Bitdefender and Malwarebytes offer great products with excellent protection capabilities. Bitdefender gives you a ton of features crucial to your online security and privacy. On the other hand, Malwarebytes doesn't have any extra features. You get decent protection against malware, viruses, and other online threats.
In a nutshell, Bitdefender offers comprehensive antivirus security suites. Its products are fully featured, they don't take a toll on your performance, and they give you great value for your money.
Although Malwarebytes promises you a full-blown antivirus, it doesn't quite have the features. In my opinion, Malwarebytes hasn't still reached its full potential. It is still a tool to remove stubborn malware and viruses that other traditional antivirus suites cannot.
Its ability to detect and combat zero-day malware and viruses gives it a cutting edge. Hence, Malwarebytes makes a great second line of protection alongside your antivirus.
Frequently asked questions
How good is Bitdefender in 2023?
Bitdefender offers one of the best protection against malware and various online threats. Its cross-platform antivirus security suites are loaded with security, privacy, and performance-enhancing features. Besides the essential malware protection, the features ensure you get value for your money. Additionally, Bitdefender scored highly in the latest AV-Test evaluations.
Is Malwarebytes premium worth it 2023?
If you are using the free version, upgrading to Malwarebytes premium is highly recommended. The free version only offers you on-device protection. The premium version gives you more protection functionalities such as web protection, ransomware protection, malware protection, and exploit protection.
Is Bitdefender better than Malwarebytes?
Both brands offer impeccable protection against malware and other threats. However, Bitdefender products provide more in terms of features. For instance, you get more protection features such as Network threat prevention, Global protective network, Anti-tracker, Password manager, Social network protection, and so much more.
Do I need Bitdefender and Malwarebytes?
If you have Bitdefender, you don't need to have Malwarebytes. Bitdefender is a fully-fledged antivirus suite that will give all the protection you need. However, if you have Malwarebytes, you might need to get Bitdefender. Malwarebytes only gives you malware protection without any other extra features.
Can Bitdefender and Malwarebytes work together?
Yes. Unlike other antivirus suites, Malwarebytes gives you the option to run alongside other antivirus security brands. However, it would be best if you do not run them simultaneously since they might severely impact your system performance.