(Updated on January 9th, 2023)
McAfee or Kaspersky, which software should you choose and why?
We looked at both programs, comparing their strengths and weaknesses against each other. Read this in-depth McAfee vs. Kaspersky comparison to see which program is right for you.
By 2021, the global malware cost is projected to reach $6 trillion. If there's anything that implies, it's that the internet is growing increasingly unsafe. It doesn't matter what kind of device you're using; you are susceptible to threats from viruses and other kinds of malware. Reports also claim that malware infections have increased by 87 percent over the last decade, which means the need for a premium antivirus program is higher than ever.
However, identifying a good antivirus program is complicated. While free programs look more appealing, it's always advisable to opt for a premium option instead, as free programs are usually too limited. McAfee and Kaspersky are two of the premium options at the moment, so if you are stuck between them, we completely understand. To help you make an informed decision, we will pit these two antivirus giants against each other in this article.
Like we said, they are two of the biggest names in the industry, so it will be interesting to see who comes out on top in this showdown. Will it be McAfee for its advanced security features or Kaspersky for its incredible free version? The answer will become clear by the time this article is wrapped up.
Comparison at a Glance
1. Features
Winner: McAfee. McAfee clearly thumps its rival in this round, thanks to the array of advanced security features built into it. For what it's worth, though, it's worth noting that Kaspersky also offers some amazing security features.
2. Malware protection
Winner: Kaspersky. According to the evaluations carried out by top labs, Kaspersky seems to be better at detecting malware threats than McAfee, so it wins this round. That's not to say McAfee is poor at malware protection though.
3. System Performance
Winner: Tie. Anti-virus programs operate in the background, which tends to slow down system speed and affect overall performance. Nonetheless, some programs are able to reduce this impact. In this category, both solutions manage to perform outstandingly.
4. User Friendliness
Winner: Tie. Both antivirus tools are effortless to use, thanks to their straightforward and intuitive user interface. It's impossible to separate them in this category.
5. Pricing
Winner: McAfee. McAfee wins this round by a long shot. Apart from offering more value for money, it also allows you to cover more devices with less money, making it a perfect fit for people who have many devices to protect.
6. Customer support
Winner: McAfee. Again, McAfee wins the category, largely because of Kaspersky's lack of the now staple live-chat feature.
Short Verdict
In the end, it's a pretty easy win for McAfee, winning three out of five categories. While Kaspersky is better when it comes to malware protection, many more factors were taken into account. Overall, McAfee is the better option.
Features
The quality of a software and its function depends on the tools and features it offers. What do McAfee and Kaspersky have in stock that makes them unique? Let's find out.
The entry-level suite is McAfee Individual Plan, which offers the following basic features
Malware protection
Secure VPN
Performance Optimization
Home Network Security
Security Experts and Online Support
Password Manager
Safe Web Browsing
McAfee® Shredder™
Encrypted Storage
That is followed by the McAfee multi-device plan, which offers basically the same plans as the entry-level suite. The two features below are the only exclusive features it comes with
Up to five licenses
Multi-device compatibility
Identity Theft Protection Essentials (you have to be enrolled in auto-renewals)
The last one is McAfee Family package, which is the company's best-deal product. It offers everything available on the entry-level and multi-device suites, but allows you to protect up to ten devices at a reasonable price.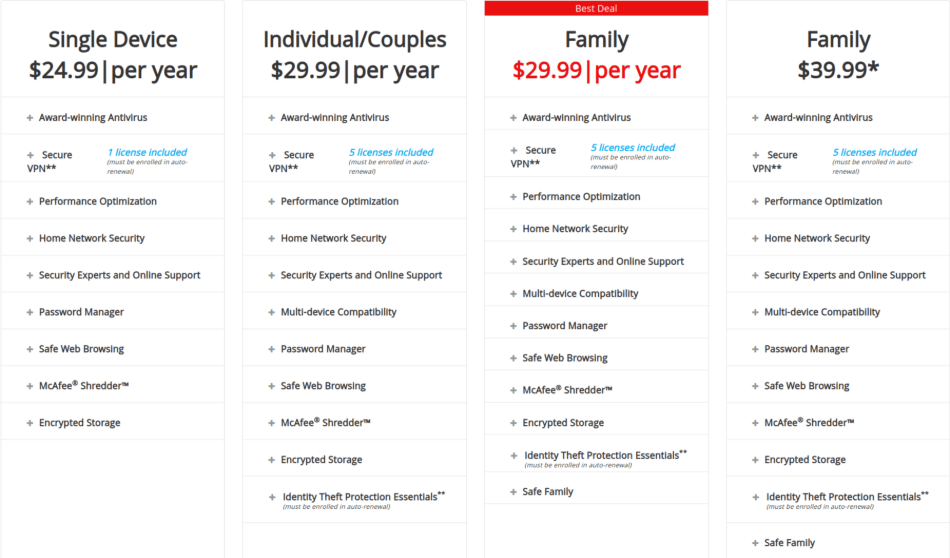 Kaspersky also provides a wide variety of antivirus plans for different needs and a free offering. The first and most affordable suite in their lineup is Kaspersky Antivirus, which offers nothing beyond basic antivirus features. The package includes the following
Real-time antivirus protection.
Blocks ransomware, cryptolockers and more.
Stops cryptomining malware infections.
Allows your PC to perform as it's built to.
Second in line is Kaspersky Internet Security, which is the company's mid-tier product. While it's only compatible with PC and Mac, it offers everything on the entry-level product, plus the following advanced features
Secure VPN.
Prevents online trackers.
Detects and blocks spyware.
Protects payments.
Blocks unauthorized webcam access.
Finally, there is Kaspersky Total Security, which is actually our favorite Kaspersky product. Apart from the features found on other Kaspersky's products, this one also comes with the following exclusive features
Bad content' blocker.
GPS tracker.
Password manager.
File Protection.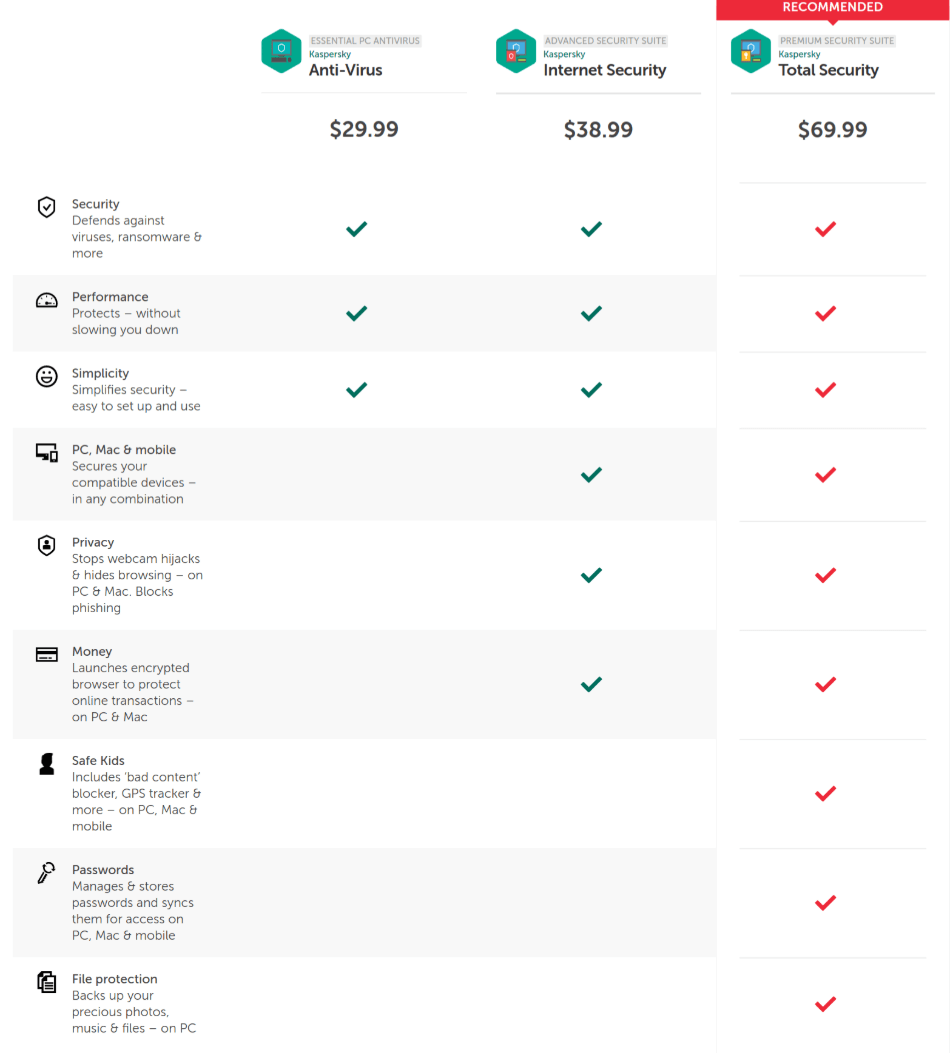 Verdict: McAfee and Kaspersky are both equipped with unique features; all the protection facilities you need are duly catered for. However, McAfee takes the win here due to its single plan that serves all users effectively.
Malware Protection
This is a must-have feature of any antivirus software. Finding a compelling product that will safeguard your devices from various types of malware is of utmost importance. How well do McAfee and Kaspersky perform in fighting these terrifying attacks?
Although its overall efficiency is perfect, McAfee can only detect and fix popular malware attacks. Fishing out new ones is a bit of an issue. According to the recent test performed on the popular antivirus brands by the independent lab AV-Test, McAfee's score was way below other antivirus software.
McAfee found and fixed all the widespread malware threats in all the 20 tests, which is a great accomplishment. However, in its test with new malware, it scored 95.4%, which is below perfect. The industry's average also wasn't met as it had a perfect score just seven times throughout the 20 tests.
If you're only interested in protecting your system against well-known malware, then McAfee antivirus software is the best option. But if you care about brand-new malware, you should opt for other software for 100 percent efficiency.
Kaspersky has a stronger Malware defense as independent evaluation tests confirm that it detects more malware threats than McAfee.
According to the protection tests conducted recently, Kaspersky was just 0.5 away from a 6-total point, while McAfee was a step below with a 5.
Talking of new malware threats, Kaspersky had a 100 percent score as it detected all attacks making it more efficient and secured. It is also the best choice against real-time protection as it got the highest advanced 3-star award at AV Protection Test conducted on February through May 2020.
Verdict: Kaspersky's performance is top-notch in this category. It clearly thumps McAfee when it comes to providing adequate security for your devices.
System Performance
All antivirus program tends to affect the performance of your system, since they're programed to run in the background. But which of these programs has a bigger effect on performance? Let's find out.
According to the performance tests carried out by AV-Test in October 2020, McAfee scored 6 out of 6 when it comes to performance, which we found outstanding. Skim through the image below for a breakdown of the result.
Coupled with other antivirus software, AV-Test also tested Kaspersky's impact on system performance. It also scored 6 out of 6. With this result, you don't have to worry about the software slowing down your system.
Verdict: Both Kaspersky and McAfee performed impressively in this category. When it comes to system performance, they have little or no impact.
User-Friendliness
An easy to setup interface is an integral part of antivirus software since it is what the user will be in contact with daily. If the software is hard to operate, users will most likely abandon the product and opt for others.
McAfee has a cool user interface, and its shades appeal to the eyes. The tabs are easy to find and access. The Home, Identity, PC security, Privacy, and Account tabs are located in the main menu. To find quick links for easy access to the important features, you can just check the upper corner.
You'll see a default screen on the home window, which displays your safety status alongside buttons you can use to scan your system for threats. Controls to set up your password manager, view application updates, and evict browser cookies, can also be easily found, making its functionality more steps up the chart.
Furthermore, the security window gives access to more effective options like advanced firewalls and more that provide automatic protection, which checks your system for malicious objects in real-time.
You'll also find an Identity menu that contains Anti-spam, File shredder, and a WebAdvisor that protects you from phishing attempts while you surf.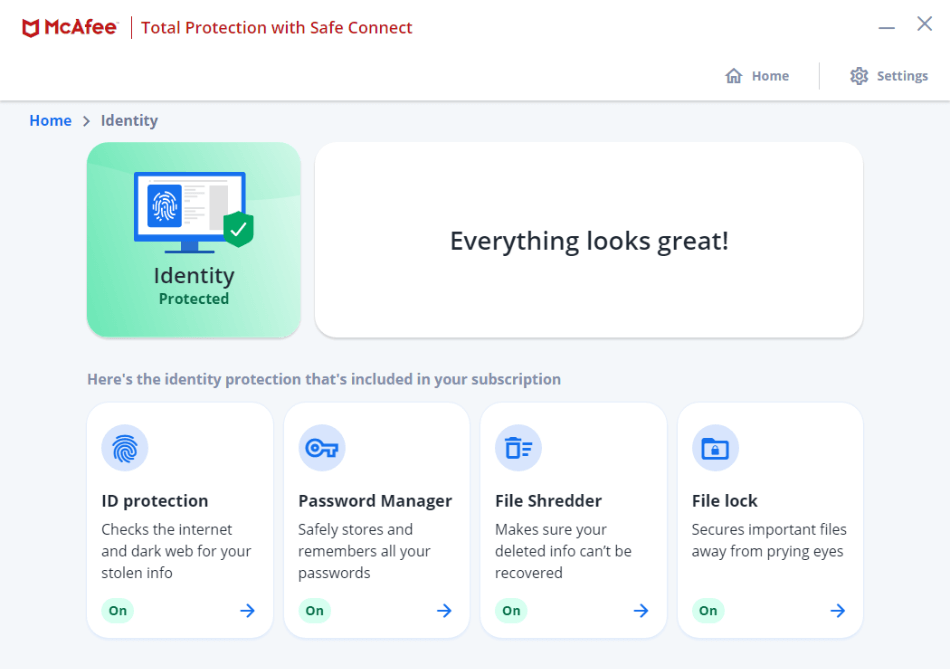 The parental control filter is at the privacy tab, and your subscription status can be seen on the account tab.
Kaspersky has a professional and friendly interface. The tabs are easy to access and understand. For a secured device with no threats, a green tick will be visible on the home screen. You don't need to bother about how to find out when your system gets attacked; whenever threats are detected, a red tick will appear.
Options for updating your software and scanning your devices are at the bottom of the screen. As they're tweeny-weeny tasks, just click on the button, and the action will be performed. Simple! You can also read through your scan results or set-up your on-screen keyboards easily.
What the on-screen keyboard does is secure your logins and protect passwords. When this is in place, your documents and financial information can't be accessed by strangers. Therefore, it is a fantastic feature to keep your details secured and your mind more at rest.
Verdict: All in all, McAfee and Kaspersky provide an easy to navigate and stress-free user interface.
Pricing
We have seen all the different plans offered by the two antivirus solutions, so let's find out how much the plans are offered for and what you stand to get for your money.
McAfee offers three main suites. Sadly, all are paid-for, which means the range of products begins with the McAfee individual plan, which costs $19.99 per year.
Being the cheapest plan in their lineup, it can only be installed on a single device. This suite covers all the features available in other programs, including a functional firewall, efficient encryption tool, a competent WebAdvisor, and a 3-point App boost. The Individual price is budget-friendly. However, it increases during renewal as the amount is about two times the first year's. But then, Kaspersky's renewal price is much more.
Next up is the McAfee multi-device plan, which costs $24.99. Overall, it offers the same features as the entry-level suite. The only upside is that it allows you to protect up to five devices. It can be installed on your PC, iOS, Mac, Mobile device, and tablet. Impressively, its firewall ousts the Windows', so it's easy to include your commands.
The McAfee Family package is the company's top tier offering. It is the most expensive plan offered by McAfee. The reason isn't far-fetched as it allows you to protect up to 10 devices. This is the best antivirus plan you can find to protect you and your family against all threats. It also guarantees 24/7 real-time protection.
Finally, McAfee has refund policies, which makes it easy to give refund orders within 30 days of your subscription.
Priced at $29.99 for 3 devices and $39.99/year for 5 devices, Kaspersky AntiVirus is the least costly plan in their lineup. Along with everything that comes with Kaspersky-free, it offers a stronger layer of security-enhancing features. However, it can only be installed on Windows PCs.
If you're willing to protect not only Windows OS but also Mac OS and mobile devices, Internet Security is the best suite. As at this moment, it is the most popular plan among users. Kaspersky internet security is the company's mid-tier suite providing a yearly plan of $39.99 and $44.99 for 3 and 5 devices, respectively.
Next up is the Kaspersky Total Security. This suite is the costliest Kaspersky package available for PCs, iOS, Macs, and Mobile devices. It has more interesting features, and protection is guaranteed. With this plan, you get to protect 10 devices for $74.99. However, a 5-devices package for $49.99 is available if you want to protect a lesser number of devices.
Keep in mind that these prices are for first-time subscribers; you'll have to pay much more during renewal.
Verdict: McAfee allows you to secure more devices at a cost lower than Kaspersky's. So it wins this round.
Customer Support
Users are likely to face issues when dealing with antivirus software. It's the job of the production company to provide help in this case. As bad customer care is a put-off for customers, let's see how Kaspersky and McAfee render support services.
McAfee has different contact routes duly covered. From messages and live chat to FAQs and community forums, all you need to solve any problem or hitch you might encounter.
Live chats and Phone calls are in place throughout the day for English speakers. Other language speakers have to consider other options.
For services other than phone calls and live chats, I'm glad to inform you that McAfee has a comprehensive knowledge base and a community forum for self-help. The base help solve many technical issues, and the forum is very active as it is run by the company's participating customers and tech support agents.
Sadly, their articles are not well arranged, there are many options, and you're not sure which to select. The easy way out is to use the search bar and sift through to find your answer. Another downside is the lack of instructional images and video for easy understanding, but notwithstanding, their support articles are well written and detailed.
As the community forum is available in different languages, you can be sure to get to read their updates in your mother's tongue.
They have a Virtual Technician to fish out and solve technical issues you might have. This feature isn't totally efficient, but it is enough for simple operations. Additionally, a Techmaster is in place to help diagnose and fix troubleshoot issues.
Overall, their customer support services are impressive. You can have access to everything you need to have a wonderful experience with McAfee.
Unlike most top companies nowadays, Kaspersky has no provision for live chats. However, they offer other options like detailed guides, efficient FAQs, and easy to comprehend how-to videos that help solve technical or troubleshoot issues.
The customer care section is organized such that you get to have access to guides in line with your user preference. You'll get to choose the Business or the Home and Mobile suite, depending on the option you signed in for. As it is based on the type of suite you use, it is tailored to help diagnose and fix your software issues better.
In addition to the various support facilities easily accessible by users, you'll also get to check out Kaspersky's community forum and interact with active users and Kaspersky Labs representatives to exchange information that helps solve common issues.
Verdict: Both McAfee and Kaspersky have an effective customer care service you can rely on to fix all your technical issues efficiently.
Final Thoughts
McAfee and Kaspersky both had nice scored on system's performance, an easy to use interface, and their prices are budget-friendly. The main difference is in the malware protection and some added features.
While Kaspersky had a perfect protection rate against all threats in November 2020 with no false alarms, McAfee had a score lower than its industry's average and also recorded false alarms in the same test.
McAfee's free ID protection is a nice catch. Coupled with its range of advanced security features, extra utilities, and amazing customer support, McAfee is the best option. But if you're more security conscious, it's only normal to opt-in for Kaspersky.
Frequently asked questions
Can McAfee be trusted?
After performing various tests on McAfee, we concluded that it is a good antivirus software as it performed well in our ratings. So, if you have doubts about McAfee, be rest assured that you can bank on it.
Is Kaspersky reliable, or do they work for the Russian government?
Kaspersky is a private company that operates in 200+ countries and obliges to the legal requirements and demands of the countries it operates in. However, Kaspersky doesn't hack people's systems or perform illegal acts on behalf of the Russian government
Is Kaspersky better than McAfee?
No, Kaspersky isn't better than McAfee. While both software provides efficient malware protection without any impact on the system's performance, McAfee offers more security-related utilities and extra features in its product than Kaspersky.
Can I install McAfee mobile security on my iPhone?
Yes, McAfee is compatible with iPhones alongside all Windows versions, Macs, iOS, and Android devices. All you have to do is download from the Apple App Store and get the product key so that you could secure your iPhone and activate the app.