(Updated on January 9th, 2023)
McAfee or AVG? A debate about which antivirus program is better has been raging on among experts for many years. We hope that our in-depth comparison will help you choose the right software.
In 2021, malware threat remains a huge threat to computer users. The AV-Test Institute claims that about 350,000 new strains of malware are discovered every day. This only means one thing: the internet has never been this unsafe. Every user needs to seek the protection of a premium antivirus product. Many free ones are also available, but you can't rely on them to protect the data and privacy of yourself and your loved ones.
That takes us to where we started – McAfee or AVG, which is better? Both companies have been rivaling the top spots for more than a decade. And while it's a healthy competition that encourages consistent high performance, it puts users in a difficult spot, making it difficult for them to choose between the two tools.
In this comparison, we'll compare every aspect of their operation, using statistics and proofs from reliable sources.
Comparison at a Glance
We have compared the programs briefly in this section to give you an idea of what is to come.
1. Features
Winner: McAfee. Both antivirus products are blessed with abundant mouthwatering features, but McAfee slightly takes the lead in this category.
2. Malware Protection
Winner: Tie. In the independent tests conducted by AV-Test Institute, both antivirus products gave an excellent performance. So, we couldn't find a clear winner.
3. System Performance
Winner: McAfee. It's another win for McAfee in this category. Even though most antivirus solutions end up impacting your system's performance significantly, the solution manages to lessen the impact.
4. User-Friendliness
Winner: Tie. This section also ends in a draw. The best antivirus solutions don't only protect your device – they are also designed for easy interaction, and both McAfee and AVG have perfected this.
5. Pricing
Winner: AVG. While McAfee also offers reasonably priced plans and products, AVG manages to thump it in this round, majorly due to its free offering.
6. Customer Support
Winner: McAfee. If you ever get in trouble, your antivirus provider needs to be on standby to provide solutions. While both companies offer decent support, McAfee seems to be more effective.
Short Verdict
Winning three out of six categories, McAfee has walloped AVG in this comparison. With its mix of a wide range of advanced features, intuitive user interface, and efficient customer support, McAfee is the superior antivirus solution by clear margins.
Now let's dive into details.
1. Features
The number and quality of features of an antivirus product determine its overall value. In this category, we will break down the various features offered by both McAfee and AVG.
Like most antivirus providers, McAfee offers many suites, allowing different users to find suitable plans for their needs. The McAfee Individual Plan is the company's entry-level plan, and it comes with the following features:
Malware protection.
Secure VPN.
Performance Optimization.
Home Network Security.
Security Experts and Online Support.
Password Manager.
Safe Web Browsing.
File Shredder.
Encrypted Storage.
McAfee's Multi-Device Plan is the company's mid-range suite and probably the most popular as well. Apart from all the features found on the first plan, this suite comes with the following additional features:
Up to five licenses
Multi-device compatibility
You can also enjoy McAfee's Identity Theft Protection Essentials if you enroll in auto-renewals.
The ultimate suite is McAfee Family Package. While it doesn't have any special features that are not on the previous two plans, it comes with up to 10 licenses, which explains how the company came about its name.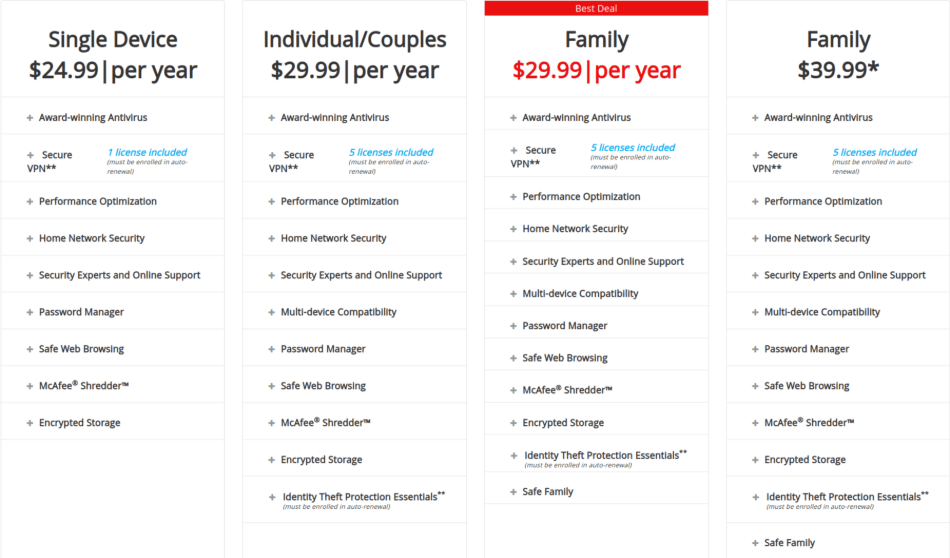 Unlike McAfee, AVG offers a free plan, much to the delight of many. However, the only thing the free plan offers is malware protection and nothing more. For more serious users, there are two paid plans, with the first one being AVG Internet Security. The plan helps you
Block viruses and malware.
Protect against ransomware.
Verify Wi-Fi network security.
Avoid fake and unsafe websites.
Secure against phishing sites.
The final premium plan is AVG Ultimate. Apart from all the features found on the entry-level plan, the Ultimate package improves your device's performance and increases storage space with the AVG Tuneup utility. Besides, you can browse privately and securely with AVG Secure VPN.
Verdict: While AVG offers a free plan, it doesn't offer enough to push McAfee when it comes to features. Apart from offering a wider range of features, McAfee also offers more plans, allowing subscribers with different budgets to enjoy many of their features.
2. Malware Protection
The primary function of every antivirus product is to protect your system from malware, so it's important to find out how well a program does this before settling for it. Let's review how both McAfee and AVG perform in this category.
Using 216 samples, AV-Test Institute tested this program for Protection against 0-day malware attacks, in which it scored 100 percent. Note that the industry average is 99.1 percent, which makes this performance even more impressive and helped McAfee garner a perfect 6/6 score.
AVG's malware protection performance was also completely flawless, evident from its 6/6 score in the independent tests carried out by AV-Test Institute in November-December 2020. The program scored 100 percent when it was tested for Protection against 0-day malware attacks.
Verdict – This round ends in a stalemate as both antivirus programs are faultless when it comes to malware protection.
3. System Performance
When your system lags after installing an antivirus program, it's very natural as most computers slow down when these tools run in the background. However, the best antivirus products have found a way around this, so let's see how the two in our comparison fare.
The AV-Test Institute tested many antivirus solutions for many things, among which is system performance. McAfee produced flawless results in this category as well, scoring 6 points out of the available 6. The industry average of antivirus solutions when launching popular sites on standard computers was 16 percent, but McAfee averaged 11 percent, which is magnificent. See the image below to see the rest of the specifics.
While it's all good news with McAfee when it comes to system performance, the same can't be said for AVG. Overall, it scored 5.5 out of 6, but it goes even deeper than that. While the industry average for slowing down when launching popular sites on standard PC was 16 percent, AVG's was 31 percent.
On a high-end PC, AVG's slow-down rate was 27 percent, which, again, was significantly higher than the industry average of 12 percent. Check the image below for a breakdown of the overall result.
Verdict: As the images above have clearly shown, McAfee is superior to AVG when it comes to system performance. While that doesn't mean its operation doesn't have any impact on your system, it only means the impact has been lessened.
4. User-Friendliness
McAfee's interface is sleek, straightforward, and completely easy to use. Anyone can literally use the application, regardless of their experience level. Navigation is easy, and everything is well organized.
At the top of the screen, there is a big status area that reports if everything is fine or not. If everything is good, you will get a report that says, "everything looks great." Below the big status area are three panels – PC, Web, and Identity.
When you click on any of the panels, you get more options for the related tools. When the identity panel is expanded, you will see an option to securely delete confidential files, safely store important documents, or set up the password manager.
It's a similar story with other panels as well. Below the panels is a small button that allows you to run a quick scan for threats on your PC.
As we already said, everything is well laid out on this tool, so you are not likely to encounter any difficulties as far as the interface is concerned.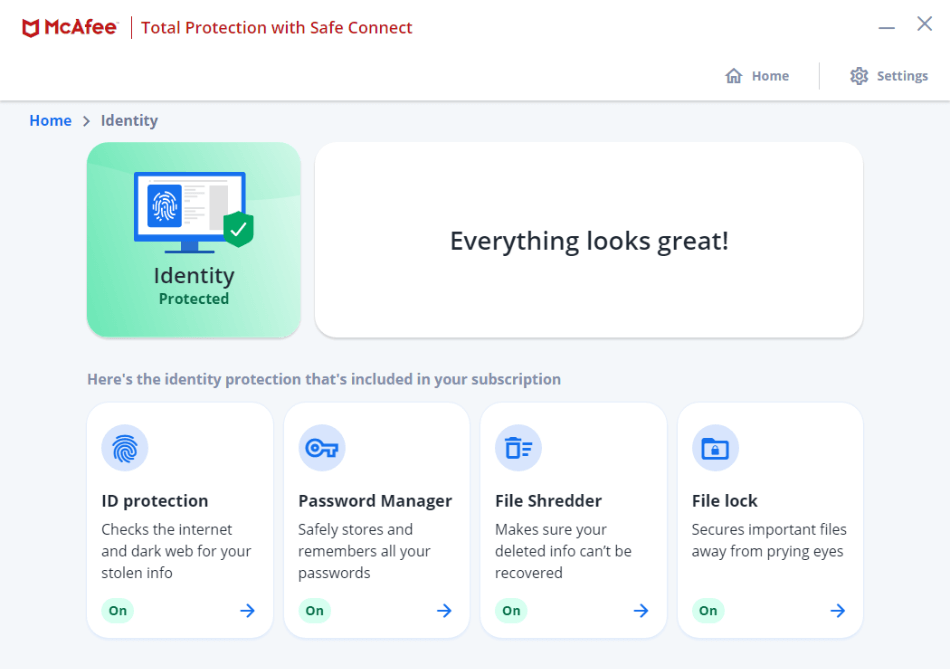 AVG, like McAfee, also has a modern and simplistic design. It has an outstanding color contrast, which allows users to easily grasp information. Not only that, but it also has discreet icons that users will be able to easily understand.
On the main screen, the most noticeable thing is the status area that reports if your computer is protected or not. If everything is fine, it says "you are fully protected," while it says "you are not protected" if there is something wrong.
The warning sign is also written in red, which spells danger. To the developer's credit, there is a "fix all" button just in front of the warning sign, so you can easily solve any problems that might have triggered the message.
Below the status area, there are four tabs – Computer, Web & Email, Hacker Attacks, Privacy, and Payments. It also shows when the last scan was run and when you updated the virus definition database.
With only a single click, you can quickly run a smart scan, which makes things as simple as possible.
Verdict: Nobody likes using software that makes things look complex, for sure. Thankfully, both McAfee and AVG have perfect scores when it comes to user-friendliness, so this round ends in a tie.
5. Pricing
There are many reasons why pricing is an important factor. As a potential customer, you are likely interested in how much value the product you are about to choose provides for the money, and pricing gives you an idea. In this section, we'll take a look at the different plans on offer with each solution and how much they are.
As we noted earlier in the article, McAfee offers three main plans, with the first and entry-level option being McAfee Individual Plan. Despite being priced at $24.99/year, the plan does come with many nice features, such as Secure VPN. To qualify for the VPN feature, though, you need to be enrolled in auto-renewal.
Apart from that, the suite comes with other basic and advanced features like performance optimization, home network security, security experts and online support, password manager, safe web browsing, file shredder, and encrypted storage. As you have seen, there are many features to enjoy, even on the entry-level plan. However, it only comes with one license, which can be quite frustrating.
| McAfee Products | Regular Price | Discounted Price |
| --- | --- | --- |
| McAfee Total Protection (1 Device) | $79.99/year | Check here |
| McAfee Total Protection (5 Device) | $99.99/year | Check here |
| McAfee Total Protection (10 Device) | $119.99/year | Check here |
If you need more than one license, you can simply opt for McAfee Multi-Device Plan, which costs $29.99 and offers up to five licenses. It offers all the features of the previous plan and some unique ones like multi-device compatibility. This feature means you can protect all of your compatible devices, such as Mac, Windows, iOS, and Android devices.
Another nice feature it comes with is Identity Theft Protection Essentials, which allows you to stay well ahead of potential identity thieves with its identity monitoring and retrieval tools. However, note that you need to be enrolled in auto-renewal to qualify for this.
The ultimate package is McAfee Family Package, which as its name sounds, is indeed made for a family. Being the company's top-of-the-line and most expensive plan, it offers ten licenses.
Finally, it's worth mentioning that each plan comes with a 30-day money-back guarantee, which means if you are not completely pleased, the company will be willing to give you a quick and considerate refund.
AVG seems to be more generous than McAfee as it offers a free plan that does a decent job of protecting you from malware. However, that's where it ends as it doesn't offer any advanced feature, most of which you are likely to need later.
There are two paid offerings – AVG Internet Security and AVG Ultimate. The first one costs $47.88, and it comes with many nice features, like blocking viruses and malware, protecting against ransomware, verifying Wi-Fi network security, avoiding fake and unsafe websites, and securing against phishing sites.
| AVG Products | Regular Price | Discounted Price |
| --- | --- | --- |
| AVG Internet Security | $89.99/year | Check here |
| AVG Ultimate | $119.99/year | Check here |
| AVG Business Products | Varies | Check here |
Normally, it comes with ten licenses, but it's customizable, so it allows you to have all these features for just a single device while paying less.
As its name implies, AVG Ultimate is the company's ultimate and top-tier package. As you would expect, it comes with all the features found on the Internet Security suite and two other exclusive features. The plan improves performance and storage space with AVG TuneUp and allows you to browse privately and securely with AVG Secure VPN.
Each plan comes with a 30-day money-back guarantee. With this, you can easily get a refund if the performance of the solution does not match your expectations. The money-back-guarantee also indicates how confident the company is in its products, so it's generally a sign of great things to come.
Verdict: While McAfee offers reasonable, well-priced plans, AVG wins this category. It comes with a free plan, which comes in handy if you are not ready to make this kind of investment.
6. Customer Support
The importance of good customer support can never be understated. Encountering problems with your antivirus tool is always a probability, so where do you run to when that happens? To support, definitely. That's why it's important to ensure the support your antivirus provider offers is reliable.
Like most top companies, McAfee cares for its customers a lot, offering a number of channels to easily reach them for effortless resolutions to your problems. For the support channels, there are many of them. The first channel is direct support, which includes a 24/7 live chat, 24/7 phone support, and a ticketing system. There is also a well-equipped knowledge base, which covers nearly everything you might want to know or resolve.
If you do not feel like using any of the above support channels, there is the customer forum as well, which has more than a million posts. The forum includes both McAfee staff and users, so you can always find someone with a solution to your problem.
AVG also has a wide range of support channels for its customers. Some of the options include live chat, email ticketing, and 24/7 phone support. Also, there are dedicated guides for every product, and they help users looking to upgrade their subscriptions as well.
Furthermore, the site has an FAQ section, which we must admit, is very limited. If all of the options above fail, your last resort is the support forum, which can actually be more helpful than you can imagine. There are hundreds of posts on the forum, and the site is designed in a way that you can easily and quickly sort through them.
Overall, AVG provides a decent quality of support to its customers, albeit not spectacular. However, most of the available support channels are only open to paying customers, like McAfee.
Verdict: Separating these tools when it comes to customer support is a tough task, to be honest. In the end, though, we've got to give the edge to McAfee, as their representatives were quicker to respond during our tests.
Final Verdict
McAfee is a better antivirus product on the whole thanks to its powerful features, impeccable performances in both protection and system performance tests, and excellent customer support. AVG also has its upsides, especially its free offering, but McAfee has an edge when it comes to premium packages.
Frequently Asked Questions
Are McAfee and AVG the same?
No, they are different products owned by two different companies. They are both giants in the industry, but that's where their similarity ends.
Is McAfee worth it in 2023?
Yes, McAfee is totally worth it. It's one of the best antivirus solutions available, offering a wide range of security features that will protect your computer from online threats.
Which AVG's suite is the best?
Definitely AVG Ultimate. It's the company's best protection, performance, and privacy software packed into one. The package includes VPN, TuneUp, and every other feature found on Internet Security.
Does AVG protect against hackers?
AVG effectively protects you against hackers. It blocks malware and viruses, protects your sensitive files, secures your emails and passwords, and allows you to bank and shop online without any worry.