(Updated on January 9th, 2023)
Norton or Bitdefender? Which software is better and why?
Read this ultimate Norton vs. Bitdefender comparison to find out which software works best for your needs.
Do you sometimes wonder why antivirus programs are getting increasingly popular in recent times? It's simple – hackers are getting more dangerous by the day, evident from a recent study that says there are now about 980 million malware programs online. The truth is that security concerns in the digital world is at an all-time high and every computer user needs a premium antivirus program to prevent their computers from getting compromised.
But why premium when there're many free anti-virus tools out there? Free programs aren't just as reliable! Besides, premium tools offer more value and more helpful advanced features that free ones can only dream of. Bitdefender and Norton are two of the leading premium antivirus programs, but you may find it difficult to figure out which is better between them. Not to worry though – that's why we made this comparison.
In this article, we will try as much as possible to separate the two leading antivirus solutions, looking into different facets of their operation, like features, malware protection, customer support, and more. Bitdefender or Norton? We can't answer this question yet, but we're confident that by the end of this article, we will have a clear answer.
Comparison at a Glance
1. Features
Winner: Norton. While Bitdefender isn't lacking when it comes to features, Norton just offers a bit more, offering more advanced and premium features to improve your overall experience.
2. Malware protection
Winner: Tie. We couldn't separate the products when it comes to malware protection. Both of them performed admirably in the recent independent lab tests conducted on them.
3. System Performance
Winner: Norton. While it's true that every anti-virus program impacts your system performance, some have found ways to mitigate the impact as much as possible. In this category, Norton is our choice.
4. Ease of setup
Winner: Norton. Norton is the clear winner in this category, thanks to its intuitive and easy-to-use interface. Of course, an argument could be made for Bitdefender as well, but it just falls short – only just though.
5. Pricing
Winner: Bitdefender. Bitdefender edges Norton when it comes to pricing, primarily because of its free version. If you are on a tight budget, your inclination may be towards Bitdefender.
6. Customer support
Winner: Norton. From all indications, it seems that Norton handles customer support better than its fierce rival. It may be down to market experience or age, but Norton's customer support is one of the most remarkable in the industry.
Short Verdict
As we have seen, both antivirus solutions are remarkable in their performances and operations. However, Norton is the clear winner, leading Bitdefender by some distance. While Norton is not the most suitable option for people on a budget, it offers something special, guaranteeing a better overall experience than its counterpart.
1. Features
As you probably know, the number of basic and advanced features on an antivirus tool can make a difference in the quality of experience you get. How do Bitdefender and Norton fare when it comes to features? Let's see below.
Bitdefender
Bitdefender offers numerous products, with each costing different prices and offering different features. The Bitdefender Antivirus Plus is their entry-level plan, and it offers the features below;
Malware protection.
An efficient browser for safe online banking/shopping.
A password manager.
A file shredder.
A battery saver utility.
A Wi-Fi Security Advisor.
Includes the silent mode feature
A vulnerability scanner.
The next suite in their offering is Bitdefender Internet Security, which comes with unique, mouthwatering features like
A 2-way Firewall.
A file encryption utility.
Webcam protection.
Anti-spam module.
Parental control features.
The company's top-tier product is Bitdefender Total Security 2023, which alongside everything offered in the "Internet Security" plan, adds the following features
A helpful anti-theft module.
OneClick Optimizer and DiskCleanup.
Protection for up to five devices (Windows, Macs, Android, iOS)
There is also the Bitdefender Family Pack, which is available for people looking to protect an unlimited number of devices with only one license. This plan is recommended if you have more than five devices to safeguard.
Bitdefender also offers Bitdefender Antivirus for Mac, which is exclusive to Mac users. Apart from offering great malware protection, it also offers a VPN and a couple of advanced protection-related tools.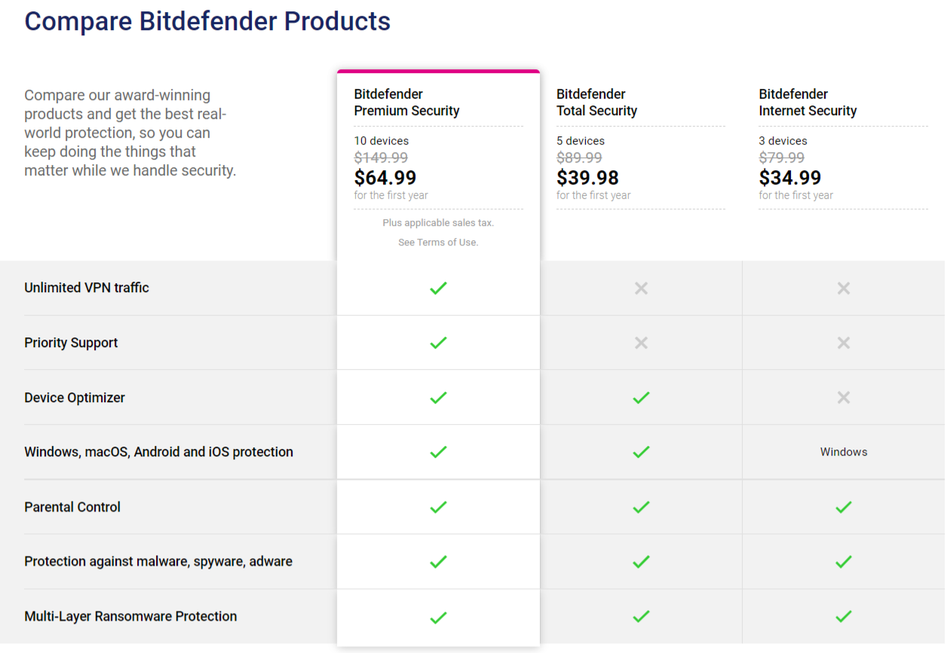 Norton
Like Bitdefender, Norton also provides a wide variety of antivirus suites for different needs but lacks a free offering. The first plan in the lineup is Norton Antivirus Basic, which is the entry-level product of the company. Below are the features it offers
Real-Time Threat protection.
2GB of Cloud Backup.
Password Manager.
Smart Firewall.
Next in the company's lineup is Norton Security Standard, which is the company's offers the basic features found on the entry-level suite and the following advanced features
10GB Cloud Backup.
Virus Protection Promise.
Secure VPN.
SafeCam5.
Dark Web Monitoring.
2-way firewall.
Compatibility with both Windows and Mac.
Protection for one PC, one Mac, and one smartphone or tablet.
Up next is Norton 360 Deluxe, which includes everything that comes with the Standard suite, coupled with other advanced features like
Parental Control.
50GB Cloud Backup.
Privacy Monitor.
Protection for up to 5 PC's, Mac's, smartphones or tablets.
The next suite is Norton 360 with LifeLock Select. This plan offers everything you will find on the "Deluxe" suite, along with the following unique features
LifeLock Identity Alert™ System
Credit Monitoring
100GB Cloud Backup
Million Dollar Protection™ Package
The company's most popular antivirus suite, and top-drawer is Norton 360 with LifeLock Ultimate Plus. As you'd expect, it comes with all the features offered by all Norton's products, and then some unique features like
500GB Cloud Backup.
Investment and 401(k) Activity Alerts.
Fictitious Identity Monitoring.
Court Records Scanning.
Million Dollar Protection™ Package.
Verdict – Bitdefender packs some punch when it comes to features but it's difficult to put it ahead of Norton, despite that. With the wide variety of advanced features packed into its best products, Norton thumps Bitdefender in this category by a slight margin.
2. Malware Protection
What's the point in buying an antivirus product if it cannot protect you? To ensure that you are getting the strongest protection, we will take a look at how Bitdefender and Norton fare against the most terrifying threats.
Bitdefender
In the test conducted by AV-Test in October 2020, Bitdefender had a score of 100 percent, which was more than the industry average of 98.8 percent. Overall, the antivirus solution earned a perfect score of 6 over 6, which is really impressive.
In terms of performance, Bitdefender scored 6 out of 6 again as the tests detected just a slowdown of 14 percent, which is lower than the industry average of 17 percent. Of course, we didn't expect anything less and the product didn't disappoint.
In the tests conducted by AV-Comparatives, Bitdefender delivered similar results. While about 6 false positives were recorded between August and September 2020, the antivirus solution successfully blocked 10101 threats, which accounted for a protection rate of 99.9 percent.
During its 2020 testing, AV-Comparatives did award Bitdefender with the Advanced+ Malware Protection award, which sums up the effectiveness of this product.
Norton
Like it did to Bitdefender, AV-Test also tested Norton in 2020. The tests carried out on the anti-virus solution revealed that like its rival, Norton also scored 100 percent in terms of malware protection. Bear in mind that the industry average is 98.8 percent, which makes the test results even more impressive.
When it comes to performance, Norton matched its strong rival, scoring a performance drop of 14 percent, which is lower than the industry average of 17 percent. At AV-Comparatives, a substantial 41 false positives were recorded, which was put in the many Eps category. For the good news, it successfully blocked 99.98 percent of threats automatically.
In the end, AV-Comparatives bestowed the Advance Malware protection award upon it, in recognition of its decent performance.
Verdict – It's quite difficult to separate these two powerhouses, to be honest. While the number of false alarms detected for Norton Antivirus may be a huge worry, we believe that's not the norm – just an outlier. Overall, it's a tie in this category, with each anti-virus solution breathing down the neck of the other.
3. System Performance
As we already mentioned earlier, every antivirus program tends to impact the performance of your system, since they're designed to run in the background. But which of these programs has a bigger effect on performance? Let's find out.
Bitdefender
In the performance tests carried out by AV-Test in October 2020, Bitdefender scored 6 out of 6 when it comes to performance, which is really impressive. Take a look at the images below for a breakdown of the score/result.
Norton
Like it did to Bitdefender, AV-Test also tested Norton broadly. Even though Norton also scored 6 out of 6 for overall performance, the breakdown in the image below will reveal that it slightly performed better than Bitdefender.
Verdict – As shown clearly in the images above, Norton doesn't affect system performance as much as Bitdefender does. However, it must be said that Bitdefender also performs excellently when it comes to system performance.
4. Ease of setup
Probably one of the most vital parts of any antivirus solution is its ease of setup and use. These tools are usually packed with a range of complex features, which means it's essential to make them as user-friendly as possible. This way, users can easily control and interact with them without any hassle.
Bitdefender
The first thing that is likely to impress you as you launch the app as a first-time user is the tour guide, which takes you around the program and teaches you the basic stuff. While it looks simple, you will find it really helpful.
To be honest, Bitdefender has a really nice interface. On the default screen, you will see a number of modules on the left. The first thing you will see is your protection status, followed by a dashboard that has important functions like quick scans and VPN. Below the dashboard are other tools like Protection, Privacy, and Utilities.
While we believe the default layout is simple enough, it's customizable, so you can rearrange the feature to suit your preferences. In our opinion, the interface offered by Bitdefender isn't only professional but also refined.
Norton
If you thought Bitdefender's interface was spectacular, then you've got to see Norton's. Everything has been simplified, making interaction effortless for new and expert users alike. The default screen shows your protection status, making it easy to instantly know your vulnerability status.
Moving on, you will find four modules – Security, Performance, Identity, and More Norton. When you expand the security tab, you will be able to run various kinds of scans, check error logs, manually update malware definitions, and more. The performance module is where you will find performance-improvement tools. Meanwhile, for privacy-related features like password manager, click on Identity window.
The last module is More Norton, which when triggered, takes you to a portal that lets you manage all your devices.
Verdict – Bitdefender and Norton Antivirus are unarguably two of the most popular companies in the industry. Thanks to their experience, they know quite well that their consumers love efficiency and simplicity. While both solutions offer that, Norton makes it a lot easier to find whatever you are looking for. Though narrowly, Norton wins this round as a result.
5. Pricing
We have discussed the different plans offered by the two anti-virus solutions, so let's look at how much the plans are offered for and what you stand to get for your money.
Bitdefender
Bitdefender offers four main plans, but if you are looking to protect multiple devices at a time, you will have to spend more. Thankfully, the companies offer huge discounts to new users, which you can benefit from.
Priced at $23.99/year, Antivirus Plus is the cheapest plan in their lineup, supporting about three Windows computers at a discount. If there are more PCs you are looking to protect, you will have to pay the full cost. While this is strange, you would love it if you only have a couple of Windows PCs.
Internet Security is the company's mid-tier package, costing $32/year. Like Antivirus Plus, this one is also limited to Windows. Not only that but it also comes with a similar three-device discount. It offers decent features like parental controls, a network firewall, and a Wi-Fi scanner.
That means macOS and mobile users are only left with Total Security, which is the company's costliest plan. For people looking for a plan that supports up to 15 devices, Bitdefender Family Plan is the one for you.
First-time subscribers have a lot to anticipate when buying a Bitdefender package. If you are on a budget, either Antivirus Plus or Internet Security will be good enough for you. If you are looking to protect many devices, however, you would be better off with either the Family Plan or Total Security.
Norton
Sadly, Norton doesn't offer any free plan, which means the range of products begins at Norton Antivirus Plus. Costing $19.99 per year, this suite covers the basics, providing 100 percent malware protection, firewall for Mac and PC, a password manager, and a PC Cloud Backup of 2GB. The huge downside is that it only protects one mac or PC at a time.
The next plan is Norton 360 Standard, which comes at $39.99 per year. Overall, it's a more complete package than the entry-level suite, offering in-depth malware protection, as well as a premium level of support and a two-way firewall. On top of this, it has a PC Cloud Backup of 10 GB and it's available on both Mac and PC, with the license allowing you to protect one Mac and one PC at a time.
Norton 360 Deluxe offers everything above and lets you protect up to five devices (Macs, PCs, tablets, or smartphones), for $49.99 per year. Impressively, it also has a web portal where users can effortlessly manage their devices' protection.
The company's next offering is Norton 360 with LifeLock Select. At $99.48/year, it's the second-most expensive plan offered by the company. It comes with everything you will find on the Deluxe plan, including automatic file backups, family safety features, and secure cloud storage of 100GB. It's also worth adding that this package allows you to protect as many as ten devices, which is an upgrade on what is offered on the smaller plans.
Lastly, the top-of-the-line plan is Norton 360 with LifeLock Ultimate Plus. Priced at $299.88 per year, this plan offers everything you could be looking for in an antivirus program. Apart from the features offered on the penultimate plan, this one also offers premium features like Identity Lock, Phone Takeover Monitoring, Bank & Credit Card Activity Alerts, Fictitious Identity Monitoring, Court Records Scanning, and Home Title Monitoring.
Verdict – Clearly, Bitdefender offers better value for money than Norton, while also offering you a free version to see what you are getting into. In this round, it's a rare win for Bitdefender – nothing less than what it deserves.
6. Customer Support
Customer support is always an important factor when comparing antivirus products. The range of channels through which customers can contact the support, the response time, and the success of troubleshooting often determine if a customer will continue to use a particular service or not.
Bitdefender
Bitdefender offers different contact routes, which is great to see. For people who like talking through their problems, there's phone support in up to 16 countries. If you don't want that, you can get in touch with them through email or live chat, or consult the knowledgebase or the forum if you would prefer to solve your problems by yourself. The forum is very active and is run by the company's participating customers and tech support agents.
Responses often come quickly – within a couple of hours most times. Forum posts are also available in a range of languages, which makes communication easier. It's worth adding that the company's support is also available 24/7, which is remarkable.
Norton
Like most top companies nowadays, Norton also offers live chat and phone support for customers. There's also a support forum and a knowledgebase, which is filled with instructional videos and how-to guides.
The knowledgebase is organized properly and divided into different categories to aid your search. The articles are also detailed, with straightforward steps to solve your issues. However, the forum is not so easy to navigate, but we must mention that it's packed with helpful posts.
Verdict – Both Bitdefender and Norton offer excellent customer support, offering many support routes/channels to facilitate problem-solving. However, we've got to mention that Bitdefender has an easier to search and more modern forum, plus the knowledgebase is more thorough. It wins this category, but with the slightest of margins.
Final Thoughts
Both Bitdefender and Norton are two amazing performers when it comes to computer protection against viruses. However, depending on what you need an anti-virus product for, you may want to be careful when choosing between the two. While the former is a great fit for people who are on a budget, the latter is perfect for people who yearn for stronger protection.
Overall, Norton is the best of the two, thanks to its range of advanced features, superb malware protection, and amazing customer support.
Frequently Asked Questions
Can Bitdefender be trusted?
If you are wondering if Bitdefender can be trusted, our answer is yes. The program performed admirably in our tests. Depending on the price, the tool comes with a range of internet security protections.
Does Bitdefender slow down your computer?
Bitdefender does slow down your computer, just like every other anti-virus solution. During the test carried out by one of the reputable labs, a performance slowdown of 14 percent was recorded, which was decent.
Is Bitdefender better than Norton?
No, Bitdefender is not better than Norton. While an argument can surely be made for Bitdefender, it falls short, with Norton winning 3 categories out of the 5 in which they were compared.
Do I still need antivirus software with Windows 10?
If you have Windows 10, you may not need to buy an anti-virus product as Microsoft has Windows Defender, which is a decent anti-virus tool. However, if you are not pleased with the performance of Windows Defender, you may upgrade to a premium option like Norton.