(Updated on January 9th, 2023)
Is the McAfee antivirus a good antivirus? Just how secure is it? Is it up to the mark? Read on to find out on this detailed review.
Malicious attackers are always working far and beyond to invade our spaces. They are often coming up with new threats or finding loopholes to penetrate the security of your device. According to Global Risk Report 2021, cyber risks are a global risk and were accelerated by the pandemic as it led to more technology dependence.
There is, therefore, a need to protect your devices against cyber threats. A premium antivirus suite comes in handy. A paid-for premium antivirus offers you identity theft protection, protects you against offline threats, and ensures a safe online space.
With a free antivirus, you are not assured of your peace of mind. A premium antivirus offers intricate and premium features. Such features include; cloud backup, password managers, robust firewalls, VPN, parental control, file shredder, and other online privacy and security tools.
Most premium antiviruses are cross-platform. Additionally, they support multiple devices at a go. You are therefore assured of value for money.
This comprehensive review on McAfee will look into features, protection and performance capabilities, user interface, pricing structure, compatibility, and customer support. Let's get started.
Pros and cons
Pros
Total protection against cyber-attacks: McAfee depends on its award-winning antivirus engine coupled up with machine learning techniques. It offers multi-layered protection with very high malware detection rates. You are sure of proactive protection in real-time. It protects you from online and offline threats.
Advanced password manager: True Key Password Manager is one of the vital features that McAfee offers. It provides impeccable functionalities and even uses facial recognition as a log-in.
Free unlimited VPN: McAfee provides a premium VPN that assures you of complete anonymity while surfing and still keeping you safe from hackers. Further, this VPN is unlimited; hence no cap on content with unlimited bandwidth.
Identity theft protection: McAfee protects your personal information from hackers, leaving no chance for them to misuse it. It will monitor and report to you when any information leaks. It can assist you to amend any damages caused.
Cross-platform suite: McAfee is compatible with windows, IOS, Android and Windows. It also has a mobile version that sports similar features such as security and anti-theft protection.
Cons
Restricted protection for iOS devices: iOS devices have a few restrictions in their operating system. Due to this, McAfee has fewer features on these devices, such as anti-theft, contacts backup, secure local storage for your media files.
Limited parental control: McAfee's Parental control feature is not the best out there compared to its competitors. This feature only provides the basic functionalities.
Identity protection services: This feature is not available in all geographical locations. If you reside outside some of these places, you are not eligible to enjoy this feature.
Short Verdict
Generally, McAfee is a worth investment for protecting your devices. Its robust and comprehensive features are top-notch in the market. Features such as identity theft protection, two-way firewall, advanced ransomware and spyware protection, and shredding utility are some of what sets this antivirus apart.
This antivirus offers the same features across all the packages it provides. However, prices depend on the number of devices to be used. It has a capacity of up to 10 devices. Additionally, it is a cross-platform hence supporting a variety of operating systems. It is a good bargain and ensures maximum value for money.
Read on to see the various aspects of this antivirus suite.
1. Features
Features provide an outline of what a product offers. Features of McAfee can be categorized into; device and online security and identity theft protection.
McAfee offers a one-in-all package, McAfee Total protection. It has no free package and is a completely paid-for antivirus. It packs premium features that ensure total protection from attacks. Most of these features are advanced and are high-end.
McAfee Total protection has four tiers. Before diving into each tier package, we will have an outlook on the main features of the McAfee antivirus suite. They are as follows;
Protection features
This is the ultimate focus of any antivirus. Components under this include;
Award-winning antivirus engine: this strong engine ensures you are protected against offline and online threats. It also ensures your devices are free from any virus, malware and ransomware.
Firewall: the two-way firewall protects you against unauthorized inbound or outbound internet traffic. This ensures your peace of mind.
App boost: this feature redirects resources to where they are most needed. It works towards enhancing performance. Actively used apps receive a priority for processing power.
Password manager: True Key Password Manager is one of the strongest password service providers.
File shredder: this permanently deletes your files, ensuring no trace is left.
File lock: it safely stores your sensitive files in an encrypted form. Your files are not accessible to the outside world due to the unbreakable encryption.
Parental control: it offers a secure online space for your kids and helps you keeps tabs on what your kids are up to. It also enables you to restrict any misconducts they might be onto in the online realm.
Scans and cleans: It scans and cleans up your computer. There is also a web advisor for adds-on that blocks and protects you from phishing attacks and malware.
Identity theft protection
McAfee protects your personal information from hackers so that they have no chance of misusing it. It has the following aspects;
ID protection: this feature is limited to some locations. Identity Theft Protection Essentials is what aids in this protection. It monitors and helps with recovery tools.
The four tiers are Single device, Individual/Couples, Family, and ultimate. Here are the features offered in each tier
The single device is the cheapest of the four. It is designed for single-device use. It has the following features.
Award-winning antivirus engine.
1 license of secure VPN.
Password manager.
Encrypted storage.
Performance optimizations.
Home network security.
McAfee shredder.
Safe web browsing.
Online support from security experts.
Next is the Individual/Couple Tier. This tier supports multiple devices. Notably, identity theft protection is offered in this tier. On top of the previous features provided by the single device tier, these are the additional features.
5 licenses of secure VPN.
Multi-device compatibility.
Identity theft protection essentials.
Thirdly is the Family tier. It builds upon features from the two previous tiers. Here is the only extra feature that sets it apart;
Finally, we look at the Ultimate Tier. This is the most exclusive and most expensive of the four. It pays more focus on identity theft protection. It still maintains all the features from the previous tiers. Other features it has are as follows.
Credit monitoring.
24/7 dedicated help agents.
Up to $1M insurance.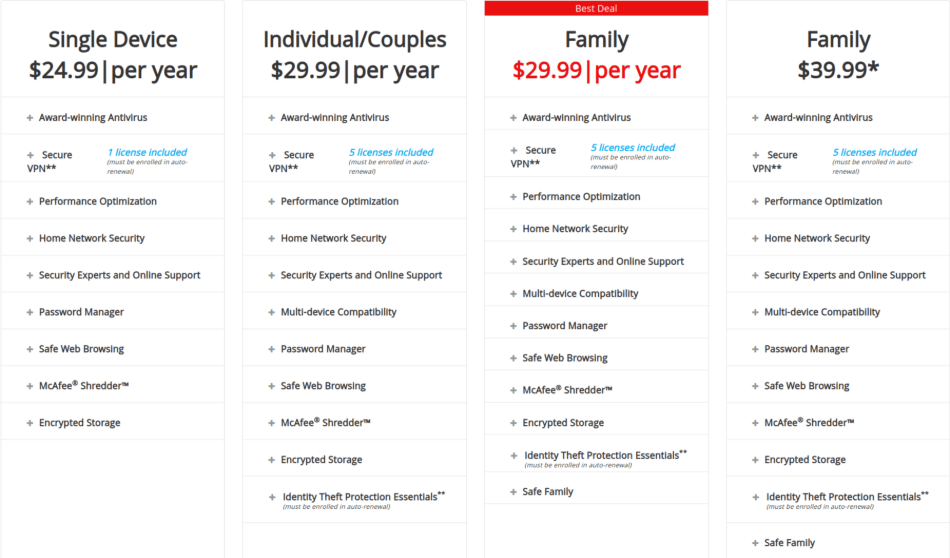 2. Anti-Malware Protection
A great antivirus suite ensures maximum protection. McAfee works effortlessly to ensure that you are protected against online threats, malware, ransomware and viruses. The incorporation of machine learning and artificial intelligence protects against real-time threats.
The award-winning antivirus engine also ensures there a fast detection rate hence prompt protection. Artificial intelligence and machine learning further ensure that there are fewer false positives.
McAfee is capable of scanning in-memory files and can identify any malicious codes. Besides this, it offers total protection against 'fileless' threats and malware.
To see how McAfee Total Protection performs protection wise, we will use results from two well-established independent labs. These are the AV-test results and AV-Comparatives results.
First, we will look at the AV-Test results. These results are evaluated on the ability of the antivirus suite to offer protection against zero-day malware and the detection of widespread malware. Here are the latest results.
Here are AV-Test evaluations for McAfee Total Protection
From the above results, McAfee got a protection score of 6.0/6.0. McAfee also got a detection and protection rate of 100%. This is above the industry average at 98% for protection.
Next are the AV-Comparatives results. These are based on two tests. These are real-world and malware protection tests. Real-world evaluations test on the internet vector while malware protection pays attention to file vectors.
Below are McAfee's Real-world Protection results from the AV-Comparatives lab.
Next is the AV-Comparative malware protection results
From the above results, McAfee scooped a two-star rating in real-world protection. However, it blocked 98.5% of malware. The malware protection tests, on the other hand, managed to get the advanced plus three-star rating. Overall, McAfee performed well in detecting and preventing malware.
To show that McAfee provides maximum protection, the company offer a virus protection pledge. This is a policy that guarantees a 100% refund on any of your subscriptions if their antivirus does not remove viruses from your device.
3. System Performance
The majority of antivirus suites strive to provide protection with minimum system impact. McAfee offers total protection seamlessly without compromising your computer resources.
Most impact on system performance is felt when you are running scans. To curb the problem of overutilizing your device resources, McAfee mostly runs in the background. This way, it ensures total protection while using minimal device resources.
You can manually activate scans on an active window too. Even with these on-demand scans, McAfee ensures there is no system performance toll through its optimization components.
To test for system performance impacts, we will again rely on results from the two independent labs. These are the AV-Test and AV-Comparatives. Evaluations from these labs check how McAfee influences daily computer usages.
The labs evaluate McAfee's influence using the following computer activities. Everyday file operations, downloads and web browsing, installing applications and launching them. Here are McAfee performance test results from AV-Test
Below are performance results from AV-Comparatives.
McAfee showcased some good performance from both results. AV-Test results show that McAfee scored clean 6.0/6.0 points. The AV-Comparative also awarded McAfee its highest rating, the advanced plus three-star rating.
Thus, from the above results, McAfee is true to its word. It offers maximum protection without impacting your system performance. If you notice a slight lag in performance, optimize your system before running the active scans.
4. User interface
A user interface should sport the following; user-friendliness, clean and easy navigation, easy to find functionalities and well-organized features. Simplicity and straightforwardness are key.
Most users are already accustomed to the simple interface on their mobile phones. Hence, most designers and developers are faced with the challenge of ensuring customers don't balk at products due to their complexity.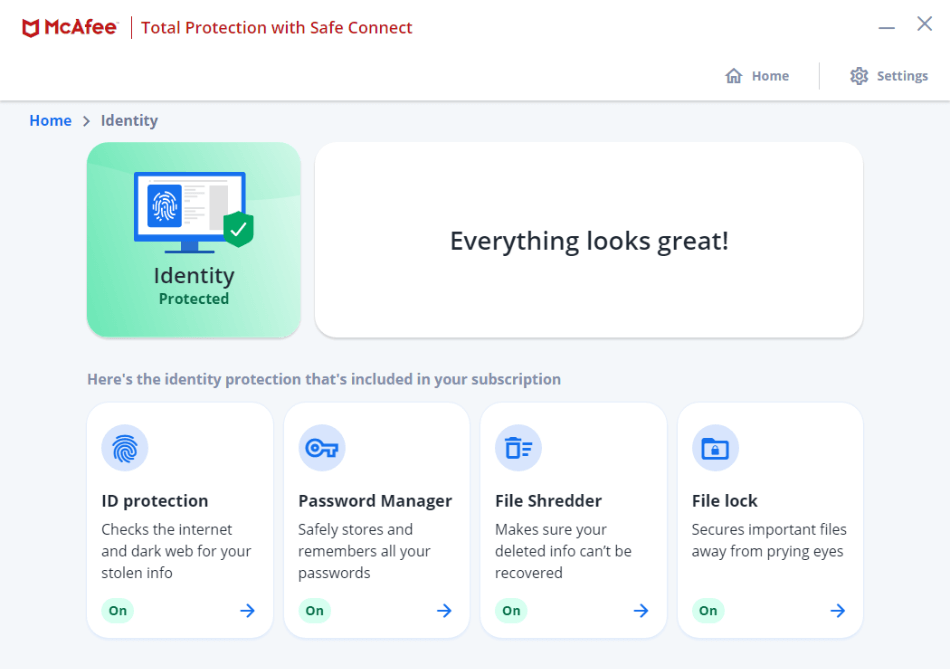 McAfee considered this and did a massive interface overhaul. The recent McAfee Total Protection updates 2023 have brought along some appealing design changes. McAfee has worked towards a simple and user-friendly interface.
They did away with the conventional interface, and now McAfee Total Protection sports a streamlined, clean interface. It has a status banner at the top and three categories of what McAfee Total Protection offers in the middle.
The three categories include; PC, Web and identity. Once you click on either of the categorizations, you get access to the related features and functions.
Scanning options are at the bottom. Other features on the main window are; Settings, Home, and the Feedback button. The settings button gives more options that aren't on the main dashboard.
The new interface is streamlined and consistent throughout. Navigating has now been made easier with this new update. Most features are integrated within the app; there is no need to download them separately.
5. Pricing
McAfee has four different tiers, as earlier discussed. These tiers have different subscription plans. McAfee also offers a 30-day free trial plan and a 30-day Money Back Guarantee. Once the trial lapses, you are obliged to pay to have access to the antivirus.
All the tiers have almost similar features. As you move up the tiers, you will have a few distinctive features. Each tier also supports a certain number of devices. You are also guaranteed a refund if you encounter malware McAfee cannot deal with.
The first-year introductory prices for McAfee at the time of this review are as follows;
The Single device subscription retails at $34.99 per year per device.
The Individual/Couple subscription goes for $39.99 per year for 5 devices.
The Family subscription costs $44.99 per year for 10 devices.
The Ultimate subscription retails at $69.99 per year for unlimited devices
| McAfee Products | Regular Price | Discounted Price |
| --- | --- | --- |
| McAfee Total Protection (1 Device) | $79.99/year | Check here |
| McAfee Total Protection (5 Device) | $99.99/year | Check here |
| McAfee Total Protection (10 Device) | $119.99/year | Check here |
You should take note of auto-renew as it comes with some benefits. When you turn it off, you do not qualify to enjoy the added benefits. Make sure to turn auto-renew in the first year of use.
With the above prices, there is something for everyone.
6. Compatibility
McAfee Total Protection is cross-platform. It is well compatible with Macs, Windows, Android, and iOS devices. You are assured of top-notch protection on all of these platforms.
Like other high-end antivirus products, Windows and Android devices sport more features. Macs and iOS devices have limited protection. This is brought by limitations in their operating systems.
These platforms share features such as protections, performance, VPN, anti-theft, and other cross-platforms services such as the True Key password manager. McAfee subscriptions also provide multi-device support.
7. Customer Support
McAfee Total Protection packs extensive customer support platforms. They can help you at any time of need. The most commonly used are self-help in their Webcenter and a virtual assistant (launched from the Webcenter).
Other common forms of customer support include; phone calls, live chat, FAQ knowledge base and a troubleshooting tool. The phone and live are accessible at any time.
Also available is the McAfee community forum. It is well versed with a range of topics and will be of assistance, and is quite active.
Techmaster, a paid-for service, also assists you with troubleshooting without you doing much.
Final thoughts
McAfee is a comprehensive virus suite that offers premium and exclusive protection. Besides protection, you enjoy features such as; device, anti-theft, secure VPN, Shredder tool, True Key password manager and encrypted storage.
It, however, has its drawbacks. Its features are limited on Macs and iOS devices. At times the pricing can be a bit confusing. In addition, the Web boost is quite bland. Despite that, it does not mean that McAfee is not a viable suite. McAfee guarantees you 100% virus removal on top of maximum protection.
Frequently asked questions
Is McAfee a good antivirus?
Yes. McAfee is a good antivirus.  It gives you value for money and has exclusive features that assure you of maximum protection. In addition, it a cross-platform suite and supports multiple devices.
What does McAfee protect you from?
McAfee Total Protection protects you from viruses, malware, spyware, and ransomware attacks and keeps you safe from suspicious or vulnerable websites
Does McAfee slow down my computer?
No, it does not. McAfee is designed to ensure minimum impact on system performance and uses fewer resources on your device.
Do I need to renew McAfee annually?
Yes, and no. McAfee has an auto-renew enabled function. This automatically renews your subscription a month earlier to the expiration date. You only need to subscribe again if you have turned off auto-renew or purchase a different subscription tier.