(Updated on January 9th, 2023)
Is McAfee Total Protection an excellent choice against online threats?
Read this comprehensive review to find out if McAfee Total Protection is the right antivirus suite.
Malware attacks, ransomware, and identity theft are still the most prominent online threats you can encounter in this digital age. In the latest security news by Bleeping Computer, US Cellular, a phone company was hit by a data breach due to a malware attack. This data breach compromised sensitive user data such as the user's address, phone number, PIN, billing statements, and other information.
For individual protection, this kind of data breach requires more than an antivirus. To have sufficient protection, you need an antivirus security suite that also offers identity theft protection services. To get this kind of protection, you need a premium antivirus security suite such as McAfee Total Protection.
McAfee Total Protection offers complete, advanced, and robust online and offline protection against malware, viruses, trojans, ransomware, and other online threats. You also identity theft protection and remediation services.
Additionally, this McAfee suite packs security and privacy-enhancing features such as unlimited VPN, True Key password manager, file lock, file encryption, file shredder, system optimization tools, parental control, among others. You also get protection across Windows, Macs, Android, and iOS. Its subscriptions will give you peace of mind and great value for money. They can cover multiple devices, up to 10.
This review will cover McAfee Total Protection using the following aspects: features, protection and performance capabilities, user interface, pricing structure, compatibility, and customer support. Without further ado, let us find out if McAfee Total Protection an excellent choice against online threats.
Pros and Cons
Pros
Top-notch malware protection: McAfee Total Protection antivirus engine protects you against online and offline threats effectively.
Excellent performance: This antivirus suite doesn't take a toll on your system performance whatsoever.
Advanced password manager: McAfee offers True Key password manager as one of its features. This password manager is among the best and offers excellent functionalities.
Free unlimited VPN: Unlike other antivirus suites, McAfee Total Protection Secure VPN is a no-limit VPN. You can surf the web and downloaded content with unlimited bandwidth.
Identity theft monitoring: McAfee Total Protection monitors the dark web and will inform you if your information has leaked. It can also help you with remediation.
Cross-platform antivirus suite: McAfee is compatible with Windows, Macs, Android, and iOS devices.
Cons
Limited protection for iOS: Due to operating system restrictions, McAfee Total Protection offers few features for iOS devices.
Limited parental control: McAfee's parental control services offer the basic features.
ID protection service only in the US: If you reside outside the US, you cannot be eligible for identity theft protection services.
Short Verdict
McAfee has been in the industry for a long time, and it offers one of the best antivirus security suites; McAfee Total Protection. This suite offers complete and streamlined protection across all supported platforms. McAfee Total Protection packs advanced security, privacy, and performance features that ensure you are secure every day.
Its identity theft protection service gives you peace of mind, and you won't have to worry about your sensitive information. Besides protection, McAfee Total Protection pricing plans are affordable, and they cover multiple devices, up to 10. You are also covered with a 30-day money-back guarantee.
1. Features
McAfee Total Protection is competent antivirus and internet security suite. It comes as a single product that offers complete protection via an excellent award-winning antivirus engine. This protection is coupled with an abundance of security, privacy, and performance features. We will deeply look into notable features and functionalities of McAfee Total Protection in three categories.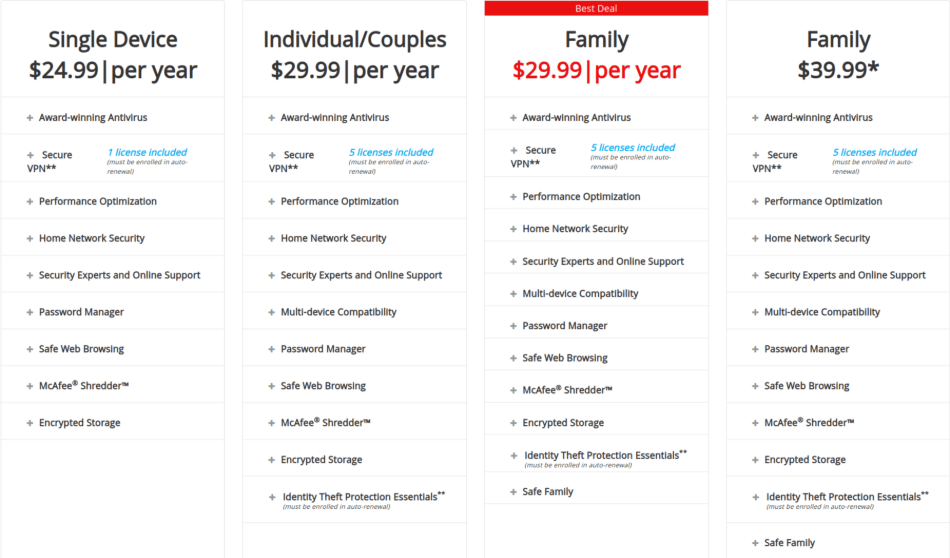 PC protection features
This category hosts features that mostly offer on-device protection and performance optimization components. They include;
Award-Winning Antivirus engine: McAfee boasts a robust antivirus that protects you against online and offline threats. This antivirus engine ensures your device is free of malware, viruses, Trojan horses, Spyware, and Ransomware.
Firewall: McAfee offers an intelligent firewall that protects you against unauthorized inbound or outbound internet traffic. If you are a novice user, you don't have to worry much as the Firewall does its work efficiently.
You get a wide range of settings, such as creating custom rules, closing and opening ports, and even turning on/off the Intrusion Detection system. You also get to view your network connections, individual program connections, history, and other things.
App Boost: This is a performance-enhancing feature that redirects resources to some apps or services that need a boost. It works by increasing the priority and assigning more processing power to apps. In a nutshell, your commonly used apps will load faster, and active apps will get more processing power and other computing resources.
Web protection
Features on this category protect you against online threats. Some of them give you a performance boost while you are surfing the internet. Here are the features;
Browser Security: This feature hosts the McAfee Web Advisor functionality. When enabled, Web Advisor will help you avoid visiting fraudulent sites that might pose a risk to your online security. This functionality crawls the web and tests sites for spam or malware. With this feature, you will avoid many scams, including phishing and tech support scams.
Web Boost: Similar to App Boost, Web Boost speeds up your web browsing experience. It does this by stopping auto-playing videos when you surf the internet. Although Web Boost doesn't improve your security, you will save a ton of bandwidth and even your battery juice.
Tracker remover: The internet is full of trackers that third-party use for personal gains. Trackers can enable advertisers to send you ads based on your behavior and even collect information. The Tracker remover cleans tracking cookies and other online temporary files. It also has a functionality that improves the speed and performance of your system.
Secure VPN: McAfee offers a superb secure VPN that protects your data in transit. This VPN uses unbreakable bank-grade encryption, and it securely tunnels your only traffic via secure servers. The servers also assign you a virtual IP address that masks your real IP address. When you use the VPN, your data in transit is safe from prying eyes, your IP is also safe, and websites/services will not know your geo-location. Also, it doesn't leak your DNS.
Unlike what is offered in other antivirus suites, this secure VPN has no bandwidth limit. You can use it for heavy internet surfing and even watch online content. However, it is not capable of unblocking top-tier streaming video services such as Netflix.
Identity protection
Besides the VPN, McAfee also has dedicated features that ensure your personal information is safe from prying eyes. Whether online or offline. These features include;
ID Protection: McAfee Total Protection offers Identity Protection to US users only via the Identity Theft Protection Essentials. This feature, more of a service, provides US users with 24/7 identity monitoring and access to recovery tools.
Similar to other Identity Protection services, this service doesn't prevent identity theft. It is helpful during the recovery process and also gives you a heads up. If your information that can lead to identity theft is compromised, Identity Theft Protection Essentials will let you know.
This service monitors the dark web, information from botnets, and generally the web. It checks if any of your sensitive information has leaked. Information checked includes; email addresses, phone numbers, Social Security Numbers, passports, driver's licenses, medical IDs, bank accounts, and credit/debit cards.
The identity Theft Protection service that comes with McAfee Total Protection is has a few limitations. It only offers ID protection for one individual and no reimbursement. To aid your recovery, subscribe to the McAfee Identity Theft Protection product. It offers $1M in identity theft insurance.
Password Manager: This feature offers premium password management services via the True Key password manager. True Key has a reputation as one of the best password managers in the market. You can use this password manager on Windows, macOS, Android, and iOS devices and sync all your password.
True Key offers various options to use the service; you can sign using the traditional Master Password or multi-factor authentication. You can set your authentication app, trusted device, Windows Hello, and fingerprint scanning (iOS and Android). You also get a browser extension.
Your passwords are protected using the strongest AES 256-bit encryption. True Key also offers other functionalities such as auto fill, safe notes, and digital wallet besides password management.
File Shredder: The McAfee Shredder is essential for permanently deleting sensitive files without leaving any forensic trace. Once deleted, they can never be recovered.
File lock: This is McAfee Encrypted Storage. This feature gives access to a vault where you can store your sensitive files. Your files are password protected and encrypted using the unbreakable AES 256-bit encryption. Like other secure vaults, you can work on your files, but they will not be accessible outside the vault.
Other features
Here are other noteworthy features that cut across privacy and security;
Vulnerability scanner:McAfee ensures your apps and other software are more secure by keeping them updated. The vulnerability scanner checks for out-of-date programs, security patches, and missing essential Windows updates. The scanner then automates the update process; you can also schedule it on when to run.
Home network security: This feature lets you monitor your network, shows you who is connected to your network, and it allows you to flag people on your network as intruders. Hence you can block devices you don't know from accessing your network.
Spam filter: McAfee offers a spam filter that works seamlessly with Microsoft Outlook and Mozilla Thunderbird. It is also good on device spam filter for other Exchange email accounts, POP3, and WebMail. You don't need it if you have a top tier email client.
Parental control: McAfee also extends protection to your kids via its Safe Family parental control suite. You get this standalone product via a license if you have the necessary McAfee Total Protection subscription. Safe Family is compatible with Windows, Android, or iOS devices.
Like other parental control products, Safe Family can prevent access to apps by type, age, or individually. It can also track the protected device's location, set screen time, allow you to view alerts and your child's recent activities.
2. Anti-Malware Protection
McAfee Total Protection provides advanced and complete protection against malware, ransomware, viruses, and other online threats. McAfee gives you cloud-based online and offline protection that always keeps you safe.
Recently, McAfee upgraded its award-winning antivirus engine and incorporated machine learning capabilities. This upgrade delivers a faster detection of threats and hence quick protection. The improved machine learning capabilities have also reduced false positives.
Additionally, McAfee now offers protection against 'fileless' threats and malware. It can scan malware that resides in the memory and even identify malicious code in legitimate system files.
To assess its anti-malware protection capabilities, we will rely on recent results from the independent labs such as AV-Test and AV-comparatives.
AV-Test evaluates the protection capabilities of antivirus suites in the following manner. Ability to protect against zero-day malware attacks and infections and the ability to detect widespread and prevalent malware. Here is how McAfee Total Protection fared.
In the recent AV-Test evaluations, McAfee got a perfect score of 6 out of 6. In all the samples it was subjected to, its protection and detection rate capped at 100%.
AV-Comparatives conducts two tests, real-world and malware protection tests. Real-world tests focus on the web/internet as an infection vector, while malware protection focuses on other infection vectors such as file, network, or USB. Here is how McAfee fared in AV-Comparative tests.
In the recent AV-Comparative tests, McAfee got the advanced 2-star rating in real-word protection results. This is average rating was due to false positives. However, McAfee had an impressive protection rate of 98.5%. Regarding malware protection, McAfee got the advanced plus 3-star rating. This means it did well in detecting and preventing malware.
From the above results from independent labs, McAfee Total Protection does a perfect job of protecting your devices against online threats. To emphasize protection, McAfee offers a virus protection pledge. This pledge gives you a 100% guarantee that McAfee will return your current subscription money if it doesn't remove viruses from your devices.
3. System Performance
McAfee Total Protection does not get in your way and will not hinder any of your daily computing activities. This antivirus suite is designed to offer seamless protection against threats without hindering performance.
McAfee will do most of its scans in the background unless you activate them manually. Nonetheless, whether in the background or on the active window, McAfee will not take a significant toll on your system performance. Additionally, its optimization components also ensure your current activity gets the necessary computing resources.
In the recent performance tests from independent labs, McAfee Total Protection did exceptionally well. To evaluate antivirus suites for performance, the labs test if the suites hinder daily computer activities. Such activities include file operations, web browsing, and downloads, and launching apps. Here is how McAfee fared in performance tests.
Here are the results from AV-Comparatives.
From both labs, McAfee Total Protection proved that it doesn't impact much on your system performance.
4. User Interface
McAfee Total Protection 2023 update also brings new changes to the user interface. McAfee has done away with the old design, and now it sports a simplistic streamlined, user-friendly interface. The main window now packs a status banner at the top (action center); in the middle, there are three categories of what McAfee Total Protection offers, and the bottom houses scanning options,
The three categories include PC, Web, and Identity. When you click on each category, you get access to related features and functionality. The new interface is fluid and consistent throughout the application. There are also the Settings, Home, and the Feedback button on the main window. Navigation is smooth in this new interface.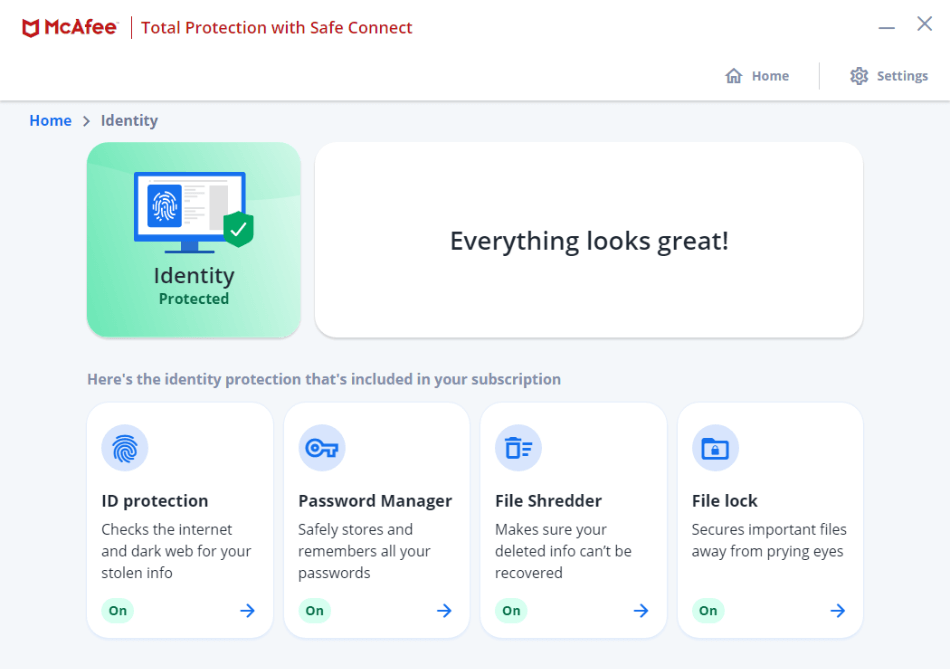 If you miss other features in the three main categories, you will find them after clicking on the Settings button. Most of the features are integrated into the app, there is no need to download them separately, and pop-up notifications are straightforward.
5. Pricing Structure
This security suite is differentiated into three tiers by pricing plans. The subscriptions carry a 30-day money-back guarantee. All the tiers share almost the same features with minimal distinctions, such as the number of devices.
The high-end tier, Family, packs all the features and supports up to 10 devices. The middle tier, Individual/Couple, lacks the parental control service and supports 5 devices. Lastly, the Single device tier supports one device, has 1 VPN license, and lacks identity theft protection and parental control.
Here are the introductory pricing details at the time of this review;
The Single device subscription retails at $24.99 per year per device.
The Individual/Couple subscription goes for $29.99 per year for 5 devices.
The Family subscription costs $39.99 per year for 10 devices.
The Family and the individual plans offer great value for your money. They are multidevice and support from 5 to 10 devices. However, be aware of the auto-renewal. McAfee has some free additional benefits that depend on it. If you turn it off, you will not be eligible for the free benefits.
| McAfee Products | Regular Price | Discounted Price |
| --- | --- | --- |
| McAfee Total Protection (1 Device) | $79.99/year | Check here |
| McAfee Total Protection (5 Device) | $99.99/year | Check here |
| McAfee Total Protection (10 Device) | $119.99/year | Check here |
6. Compatibility
McAfee Total Protection is well compatible with Windows, Macs, Android, and iOS devices. You get comprehensive malware protection across all the platforms. As always, Windows and Android are more featured than their counterparts. This is because of the limitations in the Mac and iOS platforms.
Notable shared features in all platforms include protections, performance, VPN, antitheft, and other cross-platforms services such as the True Key password manager.
7. Customer Support
McAfee offers extensive customer support that can help you anytime you are in need. The customer support includes phone calls, live chat, FAQ knowledge base, community forum, and a troubleshooting tool. You can access the phone and live 24/7, but hours of operation may vary. The knowledge base and community forum are detailed. Navigation is a bit hectic, but you get a helpful search bar.
Final Thought
McAfee Total Protection is a well-rounded antivirus and security suite with streamlined protection across supported platforms. Besides protection against malware, McAfee also offers identity theft protection and parental control service. Its subscription plans will also give you excellent value for your money, up to 10 devices.
Frequently asked questions
Should I buy McAfee total protection?
McAfee Total Protection is worth your money. Besides offering antivirus and antimalware protection, McAfee also offers identity theft protection and takes care of your online privacy.
Does McAfee Total Protection slow down computer?
McAfee Total Protection has minimal or virtually no impact on your system performance. It doesn't get in your way.
Why is McAfee full scan so slow?
At times, depending on your system, McAfee's full scan will take longer than usual. This is because McAfee will be caching or using minimal system resources.
Does McAfee Total Protection remove viruses?
McAfee Total Protection is an excellent choice against viruses. It also safeguards you from other malware, trojans, and other online threats.