(Updated on January 9th, 2023)
Windows Defender and McAfee both offer protection against digital threats. In a head-to-head comparison, which is the best antivirus suite? Does McAfee beat Windows Defender in this ultimate comparison?
We will have a comprehensive look at how the two stack up. We will compare them using the following aspects; Malware Protection, System Performance, User Interface, Pricing, and Compatibility. Read on to find out which one is a better pick.
According to a study carried out by SonicWall, in the year 2019, they identified 439000 new variants of malware. Although this is a decrease from the previous year, the number of never seen before malware rose by 12.3% in 2019.
Also, AV-Test saw that in 2020, newly developed malware grew by 110 million. According to a statistic run by Google, as of January 2021, they detected 600-800 infected sites every week. About 27000 Google sites were delisted as of January 2021 because of malware.
Therefore, one needs a reliable antivirus suite to protect against online threats. Premium antivirus suites offer impeccable protection against online and offline threats. They can also monitor your credit services and provide identity theft protection. Thus, you get peace of mind.
Unlike free products offering basic features, a paid premium product will always have intricate features. These features include; cloud backup, password managers, robust firewalls, VPN, parental control, file shredder, and other online privacy and security tools.
These premium suites also offer great value for your money. Their subscriptions can be used on more than one device. Additionally, these suites are cross-platform; they support Windows, iOS, Android, and Mac devices.
Summary (Quick Glance)
Windows Defender comes pre-installed and is free on Windows devices. Unlike other antivirus products, you don't need a subscription to use Windows Defender. McAfee, on the other hand, is a premium antivirus suite. It offers comprehensive protection in an all-in-one package.
Here is a glance at how the two products compare.
1. Feature's overview
Winner: McAfee. McAfee packs an impressive feature list than Windows Defender. It comprises of advanced, more outstanding, and comprehensive features in its package. Windows Defender only essential features interwoven with Windows services.
2. Malware protection
Winner: McAfee. Both antivirus suites offer protection against online malware. They got perfect scores from the independent labs AV-Test and AV-Comparative. However, McAfee stood out with advanced plus protection against online threats and malware.
3. System performance
Winner: McAfee. McAfee exhibits top performance than Windows Defender. It uses fewer resources when running on your devices. Hence it does not affect the overall system performance. Windows Defender can at times hog valuable resources.
4. User interface
Winner: Tie. Both antivirus suites sport an easy-to-use and straightforward user interface. Navigation is simple, and features and functionalities are well organized.
5. Pricing
Winner: Windows Defender. Windows Defender is inbuilt in the Windows system, making it free with no subscriptions. McAfee comes with four subscriptions in its plan, all with different prices.
6. Compatibility
Winner: McAfee. Windows Defender is only compatible with devices running the latest Windows operating system. McAfee is compatible with Windows, Macs, Androids, and iOS devices. Furthermore, it has multidevice subscriptions.
Short Verdict
Overall, McAfee is the better antivirus suite between the two. It offers premium features and is compatible with a broader range of devices. Its system performance and strong protection tool stand out. Windows Defender is free, and one will only enjoy basic features and functionalities. It is also only available for Windows devices.
Here is an in-depth head-to-head comparison review.
1. Feature's overview
Features play a significant role in every antivirus suite. They enhance your online security and privacy. Some features also improve your devices' performance. Overall, they boost antivirus protection. Let us see the various features offered by Windows Defender and McAfee.
Windows Defender is a pre-installed antivirus in Windows devices. It has no range of products and only works on Windows. The latest version is well integrated with various core security services in Windows. Here are some of the notable features of Windows Defender.
Antivirus engine reinforced with ransomware protection.
Account protection.
App and browser control includes Exploit protection.
Device performance and health.
Device security.
Family options.
Firewall and network protection.
The suite also offers other features that link to other Windows services. These include things like one drive for ransomware recovery, drive encryption and even a Windows Fresh start. You will also notice that Windows Defender relies mainly on the underlying Windows services.
McAfee offers an all-in-one package known as McAfee Total Protection. Unlike Windows Defender, this is a paid-for product. It has premium and advanced features which provide comprehensive protection. McAfee Total Protection is offered in four tiers.
These tiers include; Single device, Individual/Couples, Family, and ultimate.
The Single device is the low-end tier, and it is meant for, you guessed it, a single device. This tier offers the following features.
Award-winning antivirus engine.
1 license of secure VPN.
Password manager.
Encrypted storage.
Performance optimizations.
Home network security.
McAfee shredder.
Safe web browsing.
Online support from security experts.
Up next is the Individual/Couples tier. Multidevice support and identity theft protection start here. This tier comes with all the features of the previous tier. Its additions include;
5 licenses of secure VPN.
Multidevice compatibility.
Identity theft protection essentials.
The Family tier is akin to the couples' tier with only a few differences. Here is the notable feature;
Lastly, the Ultimate tier. This is McAfee's Total Protection high-end tier. It has all the family tier features, but it is more concerned with identity theft protection services. Its identity theft protection plus gives you the following;
Credit monitoring.
24/7 dedicated help agents.
Up to $1M insurance.
Between the two antivirus suites, it is clear that McAfee has more distinctive and advanced features than Windows Defender.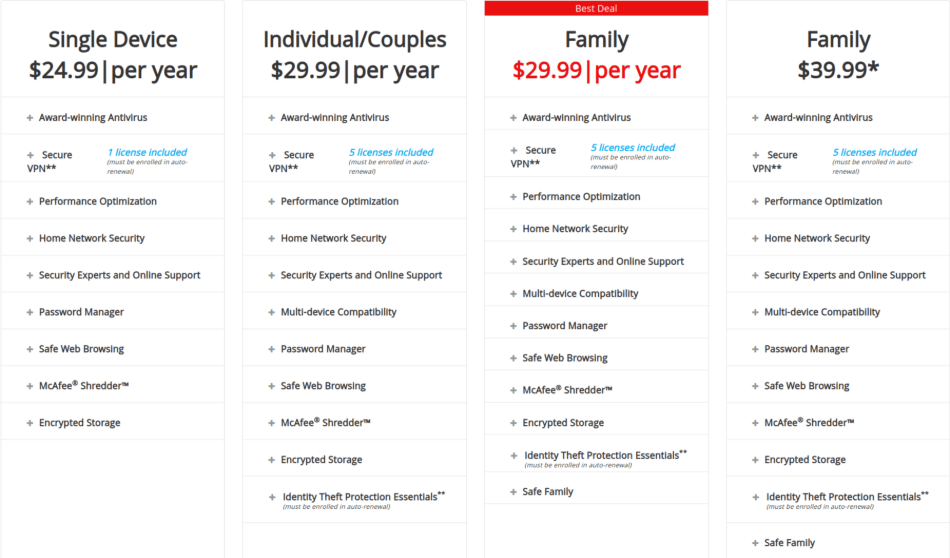 Winner: McAfee
2. Malware protection
Malware protection is the focal point of all antivirus products. Most suites strive to protect you against two forms of malware. They are; widespread malware and zero-day or new malware. These may range from viruses, ransomware, spyware, trojans, rootkits, and other online and offline threats.
Windows Defender real-time antivirus engine relies on cloud-delivered protection and advanced automation. These arms it to the teeth and ensures no malware passes by. The latest Windows Defender antivirus has an increased detection rate, enhances protection, and gets new definition updates.
Besides essential protection, it also gives you tamper protection, exploit protection, and reputation-based protection. The core isolation and memory integrity functionality protect you against file-less threats.
McAfee, on the other hand, relies on its award-winning antivirus engine bolstered with machine learning. This provides multi-layered protection with a faster detection rate and fewer false positives. McAfee also offers protection against 'fileless' threats.
We will look at the test results from two well-known independent labs to evaluate the malware protection capabilities. These are the AV-Test and AV-Comparatives. AV-Test labs subject the antivirus suites to various assessments. They look at protection against zero-day malware and the detection of widespread malware.
Here are the latest AV-Test results for Windows Defender.
Here are the latest AV-Test results for McAfee Total Protection
From the above AV-Test evaluations, both antivirus suites bag an outstanding score. They got all the 6 out of 6 points for malware protection.
AV-Comparatives lab uses two tests, the real-word protection (RWP) test and the malware protection test. RWP tests against malware propagated through the web. These include malicious URLs and other malware.
Here are AV-Comparatives RWP results for Windows Defender.

Here are AV-Comparatives RWP results for McAfee Total Protection.

The malware protection test is concerned with malware that uses files as a vector. These are malware propagated through USB drives and networks.
Here are AV-Comparatives malware protection results for Windows Defender.
Here are AV-Comparatives malware protection results for McAfee Total Protection.
For AV-Comparatives, both antivirus suites traded places in RWP and malware protection. For RWP, Microsoft Defender got the Advanced plus rating, while McAfee settled for Advanced rating. For malware protection. Microsoft Defender settled for the Advanced rating, while McAfee got the Advanced plus rating.
Overall, both antivirus suites offer stellar protection against malware and other online threats. However, McAfee gets an edge ahead due to its Identity theft protection services. Additionally, McAfee protects all your devices.
Winner: McAfee
3. System performance
It is well known that antivirus suites trade system performance for robust protection. This is not desirable as you need protection without a compromise to your computing resources. Currently, antivirus suites are now designed to have less impact on your device's performance.
System performance impacts are mostly felt when you run an on-demand foreground scan. To counter this effect, antivirus services continuously run in the background. This ensures optimal protection and the use of fewer resources in the long run.
Both Windows Defender and McAfee offer optimal protection and without compromising performance. However, Windows Defender can be aggressive at times and give your device a fever. McAfee's background scans are resource-efficient. On-demand scans also don't have a significant performance impact.
To evaluate the system performance impact, we will once again rely on independent lab results. The labs measure the average influence antivirus products have on your computer speed. They use the following metrics; common file operations, downloads, surfing the internet, installing and opening applications.
These tests are done on both high-end and standard PC settings. Here are the AV-Test results for Windows Defender.
Here are the AV-Test results for McAfee.
In the above AV-Test evaluation results, Windows Defender and McAfee Total Protection git a performance score of 6 out of 6 points.
Here are the AV-Comparative results for Windows Defender.
Here are the AV- Comparative results for McAfee.

McAfee has the best score in AV-Comparative tests. It has an Advanced plus rating, while Windows Defender only scooped the Standard award. On aggregate, McAfee has been consistent throughout these performance tests.
Winner: McAfee
4. User interface
Often, people will opt for what is user-friendly and straightforward to use. Most individuals want to take full advantage of what a product offers. This is usually a preference achieved by what you see, how you interact with it, and how you perceive it. The user interface is responsible for all this.
Windows Defender sports a pretty centralized and straightforward interface. You can easily manage all your functions in one place. The main dashboard contains features like; virus and threat protection, firewall and network protection, account protection, app and browser control, device security, device health and performance, and family options.
All its essential functionalities can be accessed easily. Although it's a plain sailing product, it has a few drawbacks. First, you cannot program your scans for a later time. It runs the scans on its automatic set time. For example, when your device is idle. Secondly, unlike other products, windows defender does not allow you to customize it.
McAfee also packs a simplistic, friendly, and straightforward interface. You will get access to the essential features and functionalities from the dashboard. The latest update streamlined the interface for easier use.
The main dashboard hosts the home and settings button, action center, and the three main security features (PC protection, Web protection, and Identity protection). There is also a feedback button and scanning actions. Luckily with this product, you can schedule your scans.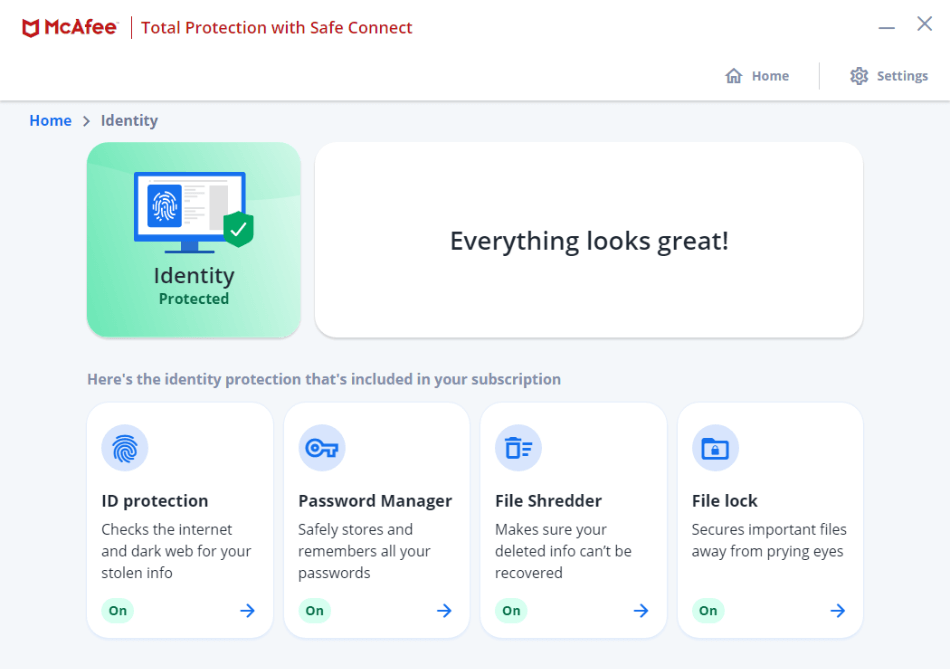 Overall, both antivirus suites possess a simple, intuitive, and easy-to-use interface.
Winner: Tie
5. Pricing
McAfee offers four different subscription plans for its four tiers. The subscriptions give you excellent value for your money. That is, they cover multiple devices and have a 30-day money-back guarantee. Moreover, McAfee offers you a 100% virus removal guarantee.
If you encounter a virus that McAfee cannot remove, they are obliged to refund you your money.
Here are the first-year introductory prices for McAfee at the time of this review.
The Single device subscription retails at $34.99 per year per device.
The Individual/Couple subscription goes for $39.99 per year for 5 devices.
The Family subscription costs $44.99 per year for 10 devices.
The Ultimate subscription retails at $109.99 per year for unlimited devices.
| McAfee Products | Regular Price | Discounted Price |
| --- | --- | --- |
| McAfee Total Protection (1 Device) | $79.99/year | Check here |
| McAfee Total Protection (5 Device) | $99.99/year | Check here |
| McAfee Total Protection (10 Device) | $119.99/year | Check here |
Windows Defender has no subscription plans; it is a free inbuilt antivirus. As long as you install the Windows operating system, you have access to the antivirus. In this section, no comparison can be drawn. McAfee has comprehensive features at a reasonable price. It has a different subscription that will suit your pocket.
Winner: Windows Defender
6. Compatibility
Windows Defender is only compatible with the Windows operating system. Also, it only covers a single device. Nonetheless, you can install another antivirus and use it alongside Windows Defender. However, you will miss out on Windows' Defender real-time protection. Windows Defender automatically turns it off when there's another antivirus.
On the other hand, McAfee Total Protection is cross-platform. It is compatible with Macs, Windows, Android, and iOS devices. Similar to other top-notch antivirus suites, Windows and Android devices get the most features.
Macs and iOS devices are limited to essential protection. This is due to the interoperability issue in these operating systems. Nonetheless, Identity theft protection is universal. McAfee also offers multidevice subscriptions.
Winner: McAfee
Final Thoughts
In this head-to-head comparison, McAfee outperforms Windows Defender by a wider margin. While Windows Defender is free, it is a bit lacking and can slow down your system. McAfee, a paid-for product, gives you all the comprehensive protection and peace of mind.
It has an impressive list of features that are more exclusive and advanced. You also get to protect your identity, give you device security. Your online activities are also secured via the premium VPN. Besides McAfee having less impact on your system performance, you can use the optimization utilities to fine-tune your system.
Thus, it is, therefore, proper to say that McAfee is the winner in this comparison. Windows Defender will only offer you basic features. Hence, it cannot promise you maximum protection against malware and threats.
Frequently asked questions
Is McAfee necessary when I have windows defender?
Yes. It is necessary to have a paid-for product to enjoy maximum protection. Often, for premium features and optimal performance, a paid-for product is the way to go.  A free product (Windows Defender in this case) only offers essential protection.
Is Windows Defender good enough for 2023?
Although it will still protect your device, Windows Defender alone is not good enough. It lacks security and privacy-enhancing features. Additionally, you will miss out on the comprehensive protection offered by a paid premium antivirus suite.
Can I run Windows Defender and McAfee at the same time?
Yes. Windows Defender plays well with other Antivirus suites such as McAfee. However, as stated earlier, you will miss out on Windows Defender's real-time protection. As soon as you activate another antivirus, Windows Defender automatically turns itself off.
Which is better, McAfee or Windows Defender?
McAfee is a better option. It has advanced features, and it gives you comprehensive protection against online threats. This includes identity theft protection. It is also multiplatform, and its subscription supports multiple devices.
Does McAfee slow down my computer?
No. McAfee is designed to use fewer system resources. Hence, it doesn't heavily impact your system performance. This is also evident from the independent lab tests. McAfee has one of the best ratings for system performance.