(Updated on March 4th, 2021)
Bitdefender vs. Avast, which antivirus security suite gives you the best protection against online threats?
In this depth comparison, we will review and assess Bitdefender and Avast antivirus products. We will use the following aspects to evaluate them: Features, Malware Protection, System Performance, User Interface, Pricing, and Compatibility. We will also use test results from independent labs such as AV-Test and AV-Comparatives. Let us get started!
2021 is barely a month old, but there has been a lot of malware doing rounds in cyberspace. According to the current state of malware, 2021 will be graced with more malware attacks. Cybercriminals are still propagating ransomware attacks, and no device is safe. Also, some new malware from last year continues to wreak havoc, and many are still at large.
With the ongoing Covid-19 restrictions and working from home, it is imperative to protect your devices against online threats. The best way to achieve online privacy and protect against malware, viruses, and ransomware is by having a premium antivirus with a comprehensive security suite.
A paid antivirus suite offers more than just threat protection. You get to safeguard your online privacy and other sensitive information when you surf the web. Additionally, besides multi-layered protection, you get advanced features that take your security and privacy a notch higher.
Features you can expect from a premium antivirus security suite include; a smart firewall, secure VPN, file shredder, optimization, tune-up tools, parental control, online privacy tools, safe shopping, and webcam and microphone safety, among others. Moreover, you get to protect more than one device using only a single subscription. Premium antivirus security suites cross-platform; works with Windows, Macs, Android, and iOS.
Comparison at a Glance
Bitdefender and Avast are well known for offering one of the best antivirus products. They have a vast customer base, and the two brands are famous for online privacy and security. If you are in a hurry, here is a brief outline of how Bitdefender and Avast compare on various aspects.
1. Features
Winner: Bitdefender. Antivirus products from Bitdefender offer a wide array of outstanding features. These features enhance security, privacy and also boost your overall system performance. Avast also provides excellent features, but they are substantial.
2. Malware protection
Winner: Tie. Both Avast and Bitdefender products offer unbeatable protection and premium security. They will proactively protect you against malware, viruses, ransomware, and other online threats such as zero-day exploits.
3. System performance
Winner: Bitdefender. Bitdefender products have a moderate impact on system performance. Bitdefender ensures you get excellent protection against online threats without compromising on performance. Bitdefender products can adapt to your systems hardware and software configurations.
4. User interface
Winner: Tie. Avast and Bitdefender products sport a user-friendly and intuitive interface. Features and functionalities are neatly organized are easily accessible from the main dashboard. You won't have to worry about navigation at all.
5. Pricing
Winner: Bitdefender. Both Avast and Bitdefender products carry competitive prices. However, Bitdefender gives you better value for your money. Bitdefender has many products compared to Avast, and these products offer features suitable protection and online privacy.
6. Compatibility
Winner: Tie. Avast and Bitdefender products are cross-platform. They are compatible with Windows, Macs, Android, and iOS devices. A single subscription supports multiple devices, up to 10 for Avast and up to 15 for Bitdefender.
Short Verdict
We recommend Bitdefender products (Bitdefender Total Security and Family Pack) for robust protection against online threats. Additionally, Bitdefender products offer a slew of advanced features and functionalities. Bitdefender prices are also competitive when compared to other offerings in the antivirus market.
Avast also offers excellent products with great online protection. However, Avast's products do not provide many valuable features, and they don't perform well compared to Bitdefender products.
Additionally, Avast was recently caught in a privacy scandal in which it sold user data to third party companies via its subsidiary. Although Avast doesn't do that anymore, it makes you wonder if it still cares about your privacy.
1. Features
Each passing year, Bitdefender and Avast continue to revamp their award-winning products with modest adjustments. Although most changes are under the hood, both companies showcase a wide array of advanced security and privacy features. Let us have a look at the offerings from both companies.
Bitdefender offers five premium products for home users. Two of these products are only for the Windows platform, while the rest are cross-platform. We will look at the products in descending order.
To start us off is Bitdefender Antivirus Plus. Built for Windows, this product packs the following features:
Protection: Real-time data and Multi-layer ransomware protection, Network threat prevention and Advanced threat defense, Vulnerability assessment and Rescue environment, anti-phishing, anti-fraud, and Web attack prevention.
Performance: Autopilot, Bitdefender photon, Global protective network, Performance profiles, and battery mode.
Privacy: 200MB VPN, Anti-tracker, Safe online banking, Social network protection, Password manager, and File shredder.
The next product is Bitdefender Internet Security. It is also built for Windows and has the following additions:
Microphone monitor and Webcam protection.
Parental Control.
Privacy firewall.
Antispam
WIFI security advisor.
The third product is Bitdefender Total Security. This is the first cross-platform product and only adds two distinct features in other arrays of features. They include:
A performance optimizer.
Antitheft utility.
It also ups the number of supported devices from 3 on the previous products to a maximum of 10, but it starts at 5 devices.
The next cross-platform product is Bitdefender Family Pack. It has all the Bitdefender Total Security features with the following addition;
Support of up to 15 devices.
Bitdefender Family Pack and Bitdefender Total Security are our recommendable Bitdefender products.
The final product is the Bitdefender Premium Security. The outstanding features of this package include:
Unlimited VPN traffic.
Supports up to a maximum of 10 devices.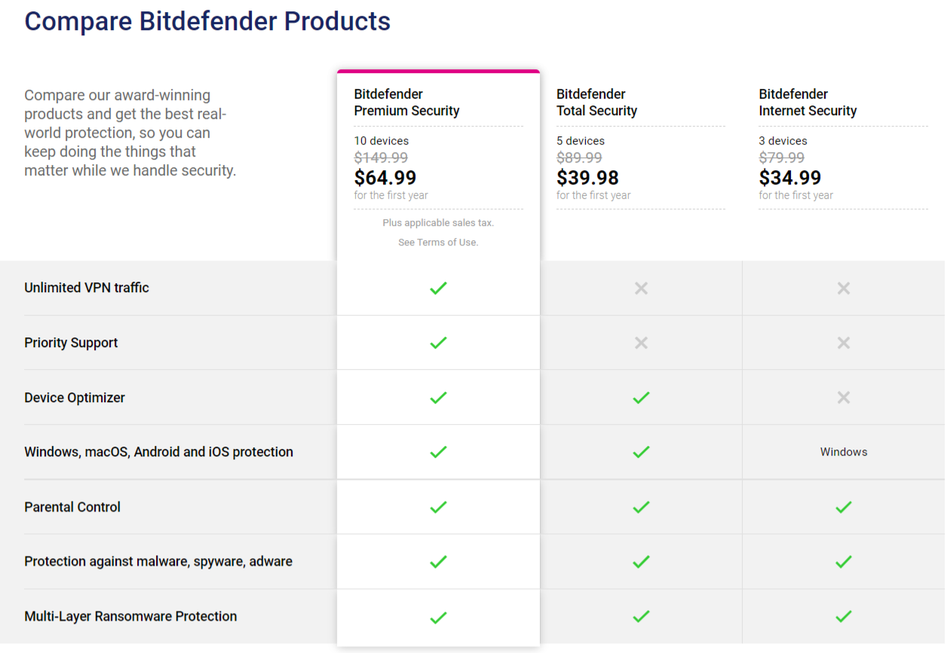 Avast offers two premium cross-platform products that support up to a maximum of 10 devices. The products are tailored to fit your online needs and give you the best protection. Their starting product is Avast Premium Security. It boasts the following features:
Real-time protection against viruses and malware.
Extra-layer for ransomware protection.
WIFI inspector.
Real site for safe shopping.
Sandbox environment.
Firewall and webcam shield
Data shredder
The second product is Avast Ultimate. This is an all-in-one bundle that gives more than just the antivirus. It has two additional features not available in the other product. They are:
Avast Secure Line VPN.
Clean up and tune-up utility.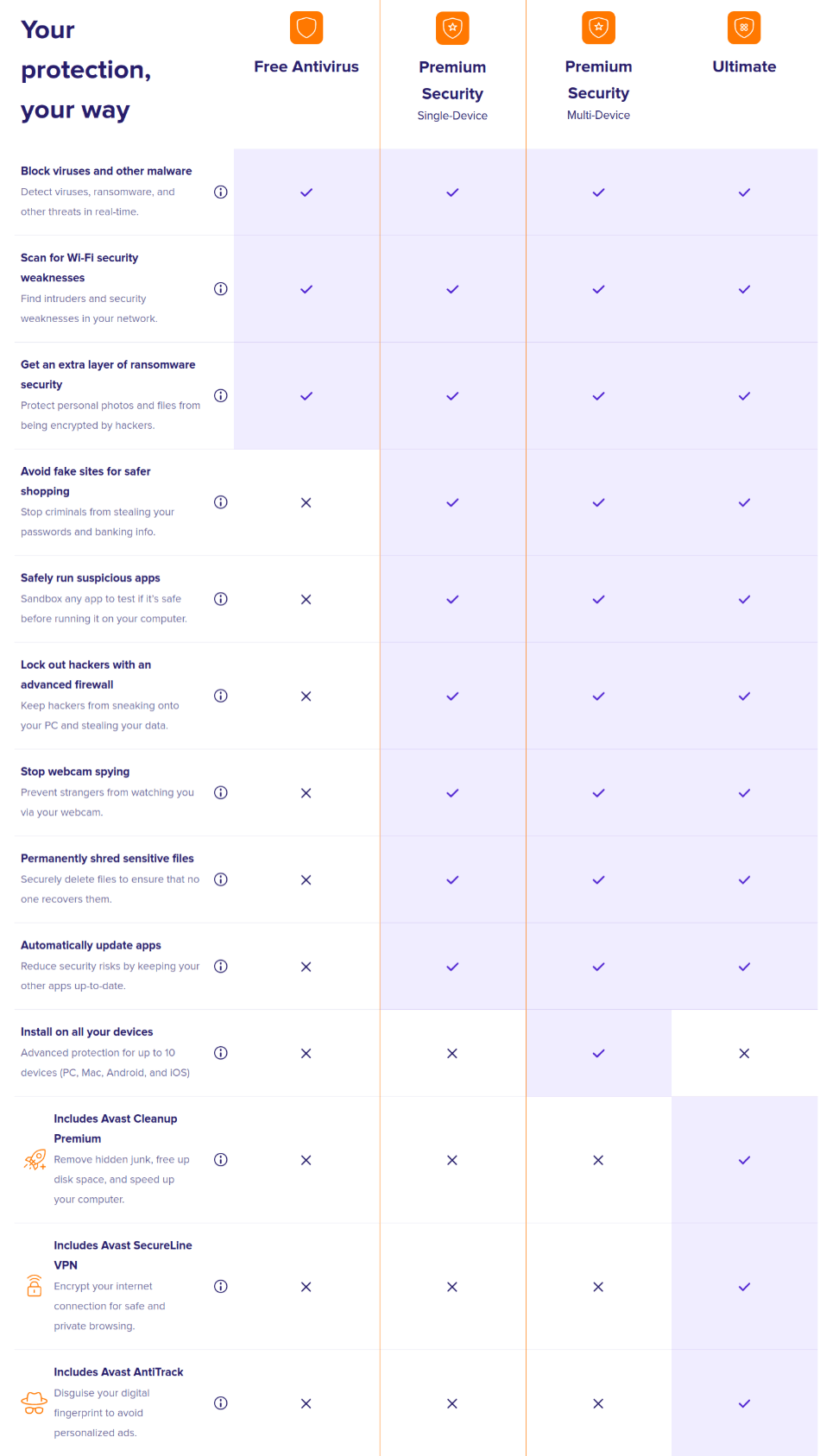 Overall, both Avast and Bitdefender provide you with essential features for your security and privacy needs. However, Avast is not well endowed like Bitdefender, and most of its features are just basic. Bitdefender Antivirus Plus can offer stiff competition to Avast's Ultimate product. In terms of features, it's a no brainer; Bitdefender has them all.
Winner: Bitdefender
2. Malware Protection
Avast and Bitdefender products have scooped various awards from independent labs for excellent malware protection. This section will use the latest results from independent labs to see how both products fare in terms of malware protection. We will consider results from AV-Test and AV-Comparatives.
Bitdefender uses its next-gen unbeatable protection to defend against all types of threats such as viruses, malware, ransomware, and even zero-day exploits. It uses the same malware-detection technology and antivirus engine in all its products.
Moreover, Bitdefender utilizes its cyber threat intelligence to ensure you are safe from network threats. This technology can identify and analyze potential network threats and even block exploits from botnets and brute force attacks.
Most of Bitdefender's features provide impeccable protection and advanced security.
Let us see how Bitdefender fares in AV-Test malware evaluations. These evaluations test how an antivirus product can defend against malware infections. AV-Test subjects the product to various samples and tests for protection against 0-day malware attacks, inclusive of web and e-mail threats, and detection of widespread and prevalent malware
Now let us look at AV-Comparative results. AV-Comparatives subjects antivirus products to real-world protection tests and malware protection tests. The test vector in real-world protection tests is the web. It involves testing against relevant malicious websites/malware, malicious URLs, and drive-by exploits. We will start with the real-world protection results.

Now to the malware protection results. The test vector for malware protection involves malicious files on the system.
Avast's real-time protection is backed up by advanced artificial intelligence. Avast also relies on its sizeable threat-detection network via its base of 400 million users to offer watertight protection. That's is, if Avast encounters a new threat in one of its users, it sends countermeasures to all its users.
Additionally, Avast can also help you to deal with weaknesses and vulnerabilities in your WIFI network.
Let us see how Avast fares in AV-Test malware evaluations.
Here are the AV-Comparative results for Avast. We will start with real-world protection.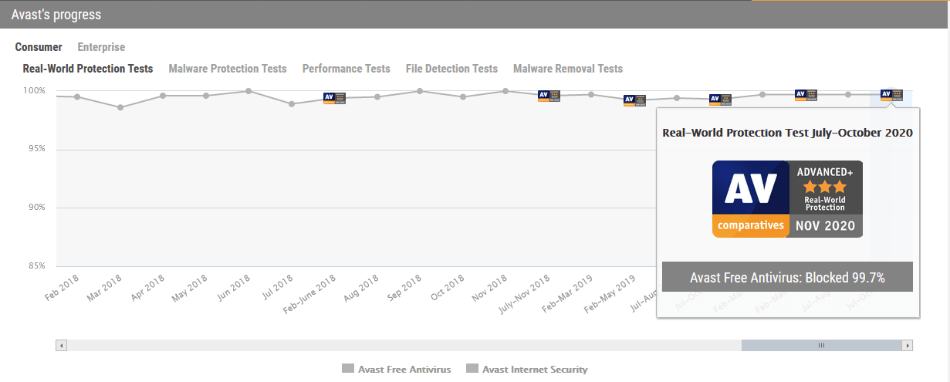 Now let us see how Avast fared in AV-Comparatives malware protection tests.
From the AV-Test and AV-Comparative tests and evaluation, both Bitdefender and Avast have outstanding scores and results. In AV-Test, they all got 6 out of 6 scores. Additionally, In AV-Comparatives aggregate results, both products got the Advanced+ in both tests. These results mean both products did an excellent job against malware, viruses, and other threats.
Winner: Tie
3. System Performance
We will again rely on results from AV-Test and AV-Comparatives for system performance results. The evaluations involve how fast or slow daily computer activities take place when using antivirus products. These activities include browsing, downloads, launching programs, installing programs, copying files, and many others.
AV-Test performance evaluations on Bitdefender.
Let us see how Bitdefender holds in AV-Comparatives tests.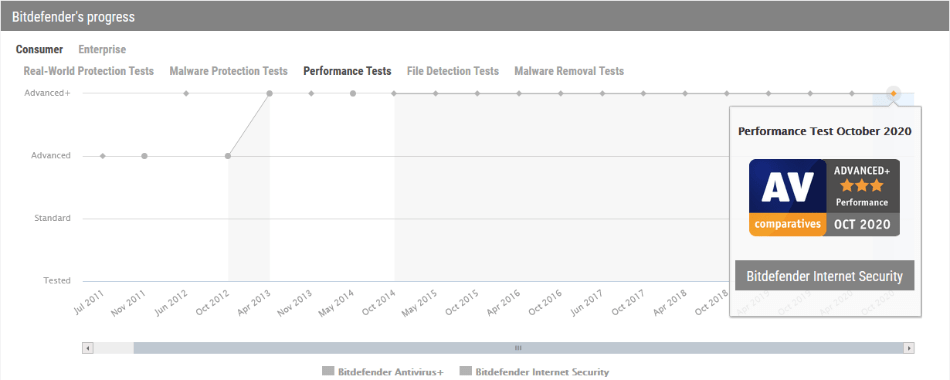 Generally, Bitdefender boasts excellent protection against online threats and compromise your system's performance. Its moderate impact on system performance can be attributed to various functionalities integrated into Bitdefender products
For instance, Bitdefender can improve its speed and performance and save your computing resources. Bitdefender does this by adapting to your system's hardware and software configuration. Some scans may not even impact your system's performance as they occur in the cloud.
Also, Bitdefender offers you several profiles that you can adjust to cater to your system performance. Depending on the profile, Bitdefender can pause unimportant background activities, adjusts visual settings, and temporarily halts pop-ups.
AV-Test performance evaluations on Avast.
Let us see how Avast does in AV-Comparatives tests.
Depending on what you are doing, Avast may give your system a fever. Some of Avast's scanning operations are aggressive, and Avast might get in your way. From the AV-Test, Avast got 5.5 points while Bitdefender bagged all the 6 points. AV-Comparative gave both products an advanced+ rating.
Winner: Bitdefender
4. User Interface
Products from Avast and Bitdefender sport a clean and intuitive, user-friendly interface.
Bitdefender packs a slightly updated interface that is easy to navigate. The dashboard hosts all major functionalities to get you going without a hassle. Features are also neatly organized.
Avast also has an appealing dashboard with less clutter. Its features are arranged in a manner that avoids complexities.
Both Avast and Bitdefender products offer superb usability, and they are easy to use.
Winner: Tie
5. Pricing
Bitdefender and Avast have different subscription plans for their products.
Bitdefender's subscription period ranges from one year to three years. In this sheet, we will look at the introductory first-year prices. Here are the details:
Bitdefender Antivirus Plus costs $29.99 for 3 devices.
Bitdefender Internet Security retails at $34.99 for 3 devices.
Bitdefender Total Security costs $39.98 for 5 devices.
Bitdefender Family Pack goes for $49.99 up to15 devices.
Bitdefender Premium Security goes for $64.99 for devices.
Avast offers three subscription plans to its two premium products. Here are the pricing plans in detail:
Avast Premium Security for 1PC costs $39.99 per year.
Avast Premium Security for 10 devices retails at $59.99 per year.
Avast Ultimate for 10 devices costs $69.99 per year.
Both sides offer competitive subscription plans for their products. However, Bitdefender products provide you an excellent value for your money as it packs many features.
Winner: Bitdefender
6. Compatibility
Both Avast and Bitdefender products are cross-platform. They have befitting features for Windows, Macs, Android, and iOS. However, on iOS, you get limited features but excellent protection. Bitdefender's lower-end products are only compatible with Windows.
Also, products from both sides support multiple devices on a single license. Avast supports up to 10 while Bitdefender takes the number higher up to 15 on the Family pack.
Winner: Tie
Final Thoughts
Avast and Bitdefender products offer top tier security with their award-winning antivirus engines. Bitdefender products come with advanced features that provide excellent protection, and also, they do not impact your system heavily. Bitdefender gives you better value for your money and a line-up of great products.
On the other hand, Avast gives you two premium products with less but effective features. However, in 2020, Avast was involved in a privacy scandal through its analytical subsidiary, Jump shot. It was found that Avast's browser extensions would collect online user activities, and Jump shot would allegedly sell the data to other third-parties.
Although Avast rectified the situation, it still suffers its trustworthy reputation.
Frequently asked questions
Is Bitdefender a good antivirus?
Yes. Bitdefender product suites offer excellent antivirus engines and advanced protection against online threats. Bitdefender products rank as top-notch security software. They have better ratings and great scores from various independent lab tests. Moreover, Bitdefender moderately impacts your system when doing scans.
Is Avast antivirus safe?
Yes. Avast antivirus products are safe, and they offer excellent protection. Although Avast was allegedly selling user data via its subsidiary Jump shot, it ceased that practice by shutting down Jump shot. However, if you are still in doubt, you can use one of Bitdefender products for ultimate privacy.
Does Bitdefender sell your data?
No, Bitdefender doesn't sell your data. According to its terms use, Bitdefender's main aim is to ensure network and information security. Bitdefender does this through its products and services. Additionally, Bitdefender explicitly states that it respects the privacy and personal data of its customers. However, Bitdefender collects personal data. 
Should I Pay for Avast?
Premium Avast products offer better protection and features as compared to its free product. The free product only offers you protection against malware, viruses, ransomware, and WIFI intruders. The paid products come with a firewall, safe shopping, a sandbox, webcam safety, a file shredder, and even a VPN.
Can I both use Avast and Bitdefender?
For greater efficiency, it is recommended that you have one premium antivirus product on your device. Having two of them can cause conflicts and even heavily impact your system performance.
If you are having a tough time choosing the best product, we recommend Bitdefender Total Security and Bitdefender Family Pack. They will protect you well against online threats.