(Updated on January 9th, 2023)
Being two of the most popular anti-virus services in the world and having 700 million users combined, it's normal that people often ask – Norton or Avast, which is better?
In all honesty, the answer to this question is never simple, but we will try to simplify it with this head-to-head comparison. In recent years, the internet space has become an abode for cybercriminals, who constantly send dangerous malware to random computers with malicious intents. According to research, about 230,000 new samples of malware are manufactured daily, with the number likely to even grow further soon.
With that in mind, there is no better time than now to protect your computer using a premium anti-virus program. In your search, you're likely to get tempted to opt for a free option, but you'd be wrong to succumb to the temptation. Free versions are often too unreliable and too limited, so why don't you choose a premium program and enjoy peace of mind for just a few bucks a month?
In that case, you may be confused about which one to settle for between Norton and Avast, two of the biggest names in the anti-virus industry. In this article, we will try to help you separate the two, using facts you can't ignore. By the time the article is concluded, we're certain you would have made a decision.
Comparison at a Glance
If you are in a hurry and would like to quickly see the winner, see the short comparisons below.
1. Features
Winner: Norton. While both programs are packed with impressive features, we can't help but give the edge to Norton.
2. Malware Protection
Winner: Tie. Separating both Norton and Avast in this category is an almost impossible task as each one performs incredibly.
3. System Performance
Winner: Norton. Again, Norton slightly edges its rival in this category, according to the independent anti-malware tests recently conducted by the AV-Test Institute.
4. User-Friendliness
Winner: Avast. It's a rare win for Avast, but one that is completely merited. Norton isn't bad at all when it comes to user-friendliness, for sure, but Avast just offers something more.
5. Pricing
Winner: Norton. With Norton, you get more than what you pay for, which means it wins the pricing category ahead of Avast.
6. Customer Support
Winner: Tie. It's another draw as we couldn't choose a clear winner. Both companies have the best customer supports in the industry.
Short Verdict
Norton wins the head-to-head battle, but not without some fight from Avast. Out of the six categories, Norton takes 3, while Avast wins 1, with two categories ending in a draw. It's a tough clash, but the overall winner is Norton.
Let's now take a detailed look at the two anti-virus solutions.
1. Features
While malware protection is the primary function of an anti-virus solution, the way it goes about it and its features determine its efficiency and overall greatness. This section takes a look at the features that come with each program.
Norton, like most top anti-virus companies, offers a range of plans, so that different users will find a suitable plan for their respective needs. Their entry-level plan is Norton Antivirus Basic and it offers the following features:
Real-time threat protection.
2GB of cloud backup.
Password manager.
Smart firewall.
After that comes Norton 360 Standard. With its cross-platform compatibility, this is one of the company's most popular plans. It comes with the following basic and advanced features
10GB cloud backup.
Complete virus protection.
Secure VPN.
Webcam protection.
Dark web monitoring.
Two-way firewall.
Compatibility with both Windows and Mac.
Protection for one PC, one Mac, and one smartphone or tablet.
The next suite in line is Norton 360 Deluxe. This is another popular suite, but it may be a little expensive since it combines all the features found in the first two suites and other unique features like:
Parental control.
50GB cloud backup.
Privacy monitor.
Protection for up to 5 PCs, Macs, smartphones, or tablets.
The penultimate plan is Norton 360 with LifeLock Select, which, apart from the features found in the first three plans, comes with the following advanced features:
LifeLock identity alert system
Credit monitoring
100GB cloud backup
Million Dollar Protection Package
The ultimate suite is Norton 360 with LifeLock Ultimate Plus, which is the company's best offer. It comes with the following unique features
500GB cloud backup.
Investment and 401(k) activity alerts.
Fictitious identity monitoring.
Court records scanning.
Million Dollar Protection Package.
Unlike Norton, Avast offers a free plan for people who are not ready to make any significant investment. However, the free version is extremely limited, so we don't recommend it. Instead, consider buying either of their two paid plans. The first paid package is Avast Premium Security, which comes in both single- and multiple-device versions.
While both versions come with the same features, they differ in their number of licenses (more will be discussed on this later). The suite provides a higher and more reliable level of protection than the free version while offering the following features and services.
Malware protection.
SandBox mode to safely run suspicious apps.
Passive mode.
Real site mode.
Ransomware shield.
Advanced firewall.
Anti-spam.
Automatic software updater.
Webcam shield.
Data shredder.
The second premium offering from the company is Avast Ultimate. Being the company's best and top-of-the-line offering, it is packed with all Avast's features, plus three additional premium tools:
SecureLine VPN.
Avast Cleanup Premium.
Avast AntiTrack utility.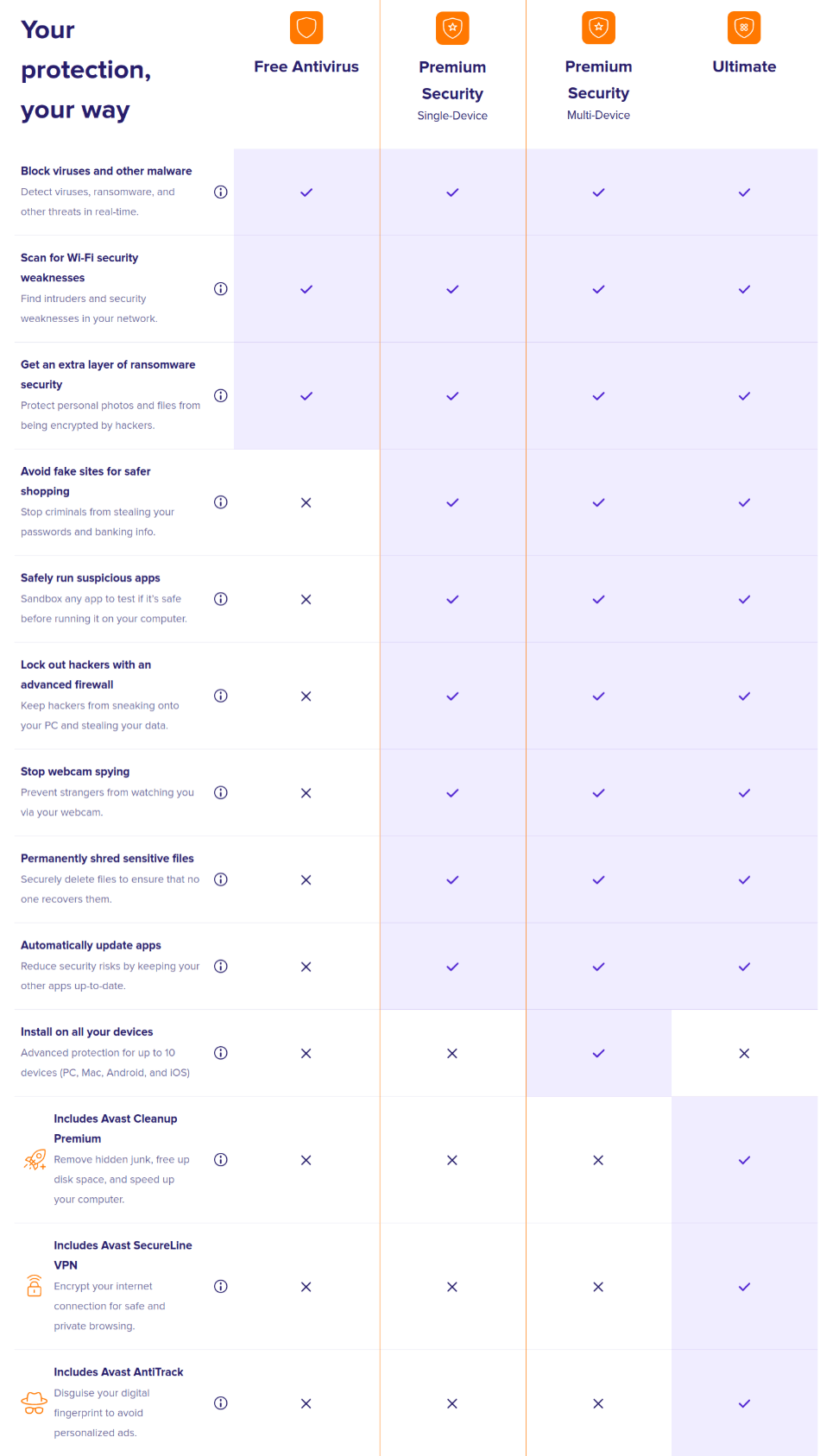 Verdict: As you must have seen, Norton wins this category hands down, thumping its rivals with its array of advanced features.
2. Malware Protection
The reliability of an antivirus solution depends on the quality of its protection against malware, as it's the primary function of an anti-virus solution. Let's check out how Norton and Avast perform in this category.
In the September-October tests conducted by the AV-Test Institute on Norton, the antivirus solution performed remarkably. In both September and October, it scored 100 percent when it was tested for Protection against zero-day malware attacks, using 334 samples. Bear in mind that the industry average is 98.8 percent, making the performance even more impressive.
It also scored 100 percent for the detection of widespread and prevalent malware discovered in the last four weeks, matching the industry average of 100 percent. Overall, it scored a perfect 6 out of 6 when it comes to malware protection.
Like its rival, Avast also performed excellently during AV-Test's independent tests conducted last September/October, finishing with completely similar scores in all the categories. That means if malware protection is the only thing you are looking for in an antivirus, you can rely on Avast.
Verdict: Both solutions were flawless in their performances when it comes to malware protection, so we couldn't have a clear winner in this round.
3. System Performance
A good anti-virus program doesn't only protect your computer against virus, it also does it efficiently, minimizing the impact of the program on your system's performance. We've broken down our findings below.
Since antivirus programs are designed to run in the background, they tend to slow your system down. However, programs like Norton have found a way to mitigate this effect. As shown in the image below, Norton doesn't slow systems down as much as most of its competitors do, which is an outstanding feat. That explains why it scored 6 out of 6 in this category.
Disappointingly, Avast doesn't perform as well as Norton when it comes to system performance. If the AV-Test results are anything to go by, this antivirus program has a worse system performance than most top antivirus programs, scoring 5.5 out of 6. Take a look at the image below to see a breakdown of its performance.
Verdict: Norton takes this round by some distance, thanks to its almost flawless performance in AV tests.
4. User-Friendliness
For any antivirus program to compete at the highest level, protecting your computer from malware is not enough – it also needs to be user-friendly, making things as seamless as possible for beginners. Let's see how these programs perform in this regard.
Norton has a user-friendly and intuitive interface, which is not surprising considering the solution is one of the top-rated antivirus programs in the world. Interaction is completely seamless, whether you are a new or experienced user.
On the default screen, you can instantly see if you're protected or not, as your protection status is clearly shown at the top of the screen. If there is a problem, you will instantly see a warning sign that shows you are unprotected.
There are four modules on the screen – Security, Performance, Identity, and More Norton. When expanded, the security module contains different buttons to run different types of scans, update malware definitions, check error logs, and a lot more. You will also find an option to check the last time the device was scanned here.
If you are looking for tools to improve performance or privacy-related features such as password manager, expand the performance module or the privacy module respectively.
When you expand the More Norton module, you will be taken to a screen where you will be able to manage different devices at once.
Like Norton, Avast also offers a modern, clean, and intuitive user interface, allowing every user to interact effortlessly, regardless of their experience. The dashboard interface is very clean, which means you won't need to face any complexity. Just open the primary console and you will find a big panel that contains your protection status and a button to run a smart scan.
There is also a notification icon, where you will find recent problems that need your attention. On the left-hand sidebar are three panels – Protection, Privacy, and Performance. When you expand the panels, you will find different functions like network checks, firewall, sandbox, virus scans, and more.
Initially, the interface could appear complicated, especially as the Protection panel is packed with up to nine buttons. However, you will soon find out how easy everything is once you are familiar with it.
Overall, the program has a simplistic design, making it a straightforward option that is perfect for beginners.
Verdict: While Norton is renowned for its incredible interface, Avast takes this round by slight margins. It's a close call, to be honest, but we've got to give this category to Avast for its outstanding intuitiveness.
5. Pricing
Before you choose between the two antivirus programs, it's also important to check which one offers the most reasonable plans and which one offers the most value for money. Let's see what's on offer with each solution.
Norton doesn't have a free plan, which may come as bad news for people who aren't willing to pay for computer protection. But to be honest, we wouldn't even advise anyone to put their computer's protection in the hands of a free antivirus plan, as free versions are often too limited, too porous, and too unreliable.
Instead, Norton offers five plans in total, with the first one being Norton Antivirus Plus. This covers only one PC or Mac at one time and costs $19.99/yearly, covering basic functions like malware protection, password manager, Mac and PC firewall, and 2GB Cloud Backup. It's worth noting though that most users don't like the fact that it only protects one PC or Mac at a time.
Norton 360 Standard is the next package in line, which offers more value than the entry-level plan. For only $39.99/yearly, the package offers 100 percent malware protection, a two-way firewall, premium support level, and 10GB PC Cloud Backup. However, this plan offers two licenses for one PC and one Mac at a time, which is better than what you get with the previous package.
After that plan comes Norton 360 Deluxe, which is a step above the first two plans. For just $49.99/yearly, you get five licenses for Macs, PCs, smartphones, or tablets with this plan. Another unique feature on offer is the web portal, where you can manage protection for each of the devices you are protecting.
The penultimate plan is Norton 360 with LifeLock Select, which costs $99.48/yearly. As we listed earlier, this plan comes with unique features like automatic file backups, 100GB secure cloud storage, family safety features, and ten licenses. Needless to say, the plan also offers the functions and features of the previous three plans.
Ultimately, there is Norton 360 with LifeLock Ultimate Plus, which is offered for $299.88/yearly. Regardless of what you are looking for, this suite has it. Apparently, it comes with all the features found on other Norton's products, but also adds some unique ones like Phone Takeover Monitoring, Identity Lock, Bank and Credit Card Activity Alerts, Home Title Monitoring, Court Records Scanning, and Fictitious Identity Monitoring.
| Norton Products | Regular Price | Discounted Price |
| --- | --- | --- |
| Norton Antivirus Plus | $59.99/year | Check here |
| Norton 360 Standard | $79.99/year | Check here |
| Norton 360 Deluxe | $99.99/year | Check here |
| Norton 360 with Lifelock Select | $149.99/year | Check here |
| Norton 360 with Utimate Plus | $349.99/year | Check here |
| Norton Small Business Security | Varies | Check here |
Lastly, we must include that Norton offers a 60-day money-back guarantee, which means you can request for refund within 60 days if you're not satisfied with the service.
Avast offers a free plan, much to the delight of many users. While our stance on free plans hasn't changed, we admit it could be a smooth way to welcome beginners to the world of antivirus. That said, there are two paid plans for people who are serious about protecting their computers or smartphones.
The first one is Avast Premium, which has two variants – Premium Security (single-device) and Premium Security (multi-device), costing $69.99/year and $89.99/year respectively. Needless to say, the two versions come with the same antivirus features. The only difference is that while the former protects just a single device, whereas the latter protects up to ten devices.
| Avast Products | Regular Price | Discounted Price |
| --- | --- | --- |
| Avast Internet Security | $47.99/year | Check here |
| Avast Premium Security (1 Device) | $69.99/year | Check here |
| Avast Premium Security (Multi-Device) | $89.99/year | Check here |
| Avast Ultimate | $99.99/year | Check here |
| Avast Business Antivirus | Varies | Check here |
The Avast Premium Security gives you an additional layer of malware protection, stops you from being spied on through your webcam by hackers, blocks attacks with a solid firewall, and helps you avoid fraudulent websites.
The top-of-the-line package is Avast Ultimate, which as the company refers to it, is one-suite-covers-all. If you need something to protect all your devices in a single convenient suite, this is what you need. Costing $119.99/year, this suite offers advanced features like a SecureLine VPN, top cleanup tools, and 100 percent malware protection.
Verdict: Even though Avast offers a free plan, Norton offers more value for money. The plans offered by Avast aren't as feature-packed as the ones offered by Norton and that's enough to give Norton the win here.
6. Customer Support
During your journey through the world of antivirus, you may encounter rough patches sometimes. When that happens, to whom do you run? Clearly, to your antivirus provider. That's why it's important to check the quality of support offered by the company whose product you are looking to buy.
Norton offers probably the best support in the business. There are many support channels, which alone is incredible. Some of the support channels include online forums, 24/7 live chat, and 24/7 phone support, not to mention that you can also get in touch with the developers via Twitter. However, it's worth noting that they aren't particularly active on Twitter, but they will still respond to your messages – it may just take some time.
If you prefer over-the-phone support, you only need to wait for about three minutes, which is short. But if you don't feel like using all of the above support channels, you can consult the company's knowledgebase, which is replete with helpful articles that contain solutions to your problems.
Avast only provides support through online forums and automated online forms. The categories ask for a description of the user's problem, after which the user is led to a click-through questionnaire, with the hope that they will find a solution.
While Avast offers remote phone support, only the Premium version customers get to enjoy this. Besides, finding the phone number on their website is not easy. If you only want to make inquiries about their products, you can call this number for free. Subscribing to their phone support costs about $79.99 to $199.99/yearly, which we believe is too expensive.
Verdict: Norton wins this category by a massive distance, thanks to the huge gap in its quality of support compared to its rival's. Apart from not offering enough support channels, Avast also charges its customers for phone support, which is absurd.
Final Thoughts
Choosing between Norton and Avast is always a complicated affair as both solutions have been two of the biggest players in the game for many years. In this guide, we have compared them, using facts you will find hard to ignore. Out of the six categories we used for comparison, Norton won three, Avast won one, with two ending in a draw.
Clearly, Norton is the better choice as it doesn't only offer reliable malware protection, but also offers more value for money.
Frequently asked questions
Is Avast Free Antivirus Safe?
Avast Free plan is not safe enough, in our opinion. It tends to miss malware/viruses/spyware that other solutions easily find. Because of this, we don't advise anyone to rely on it for malware protection.
Can Norton stop hackers?
While Norton does stop hackers to some extent, it doesn't offer full protection against them.
Is Norton worth the money?
Norton is completely worth the money. apart from being user-friendly and well-organized, it does not interfere with your daily activities excessively. Since it stays out of your way while you do your thing, it's able to effectively protect your computer.
Should I use Avast or Windows Defender?
In the tests conducted recently by AV-Comparatives, Avast Antivirus detected 100 percent of known malware and 100 percent of zero-day malware. By contrast, Windows Defender only detected 99.5 percent and 96.3 percent of known malware and zero-day malware respectively. Needless to say, Avast is clearly better.